When living with a problem for so long that you don't even realize how serious the problem has become, it's a real eye-opener to suddenly be handed a solution to the problem you didn't even know you needed solved.
Which is exactly how it feels to find out that I haven't been breathing properly for a decade.
Oh sure, I knew that my allergies got a little rough when the weather changes in the Spring and Fall... but far better to find relief in an occasional allergy pill than to buy into some pharmaceutical solution that's probably going to cause more problems than it solves, right?
And yeah, Summer can be a real bitch with all the pollens and allergens polluting the air, but that's what Summer is all about, right?
Except...
The allergy problems I've been dealing with most of my life finally got to the point where I was waking in the middle of the night unable to breathe, and every waking day was so miserable that just stepping outside was something to dread. Three days of uncomfortable transition between seasons was becoming three weeks. In recent days I didn't even know when "allergy season" ever began or ended because the entire year was becoming "allergy season."
My entire life had become post-nasal drip.
So I finally bit the bullet and saw a doctor so I could get loaded up on two drugs called "Flonase" and "Singulair"...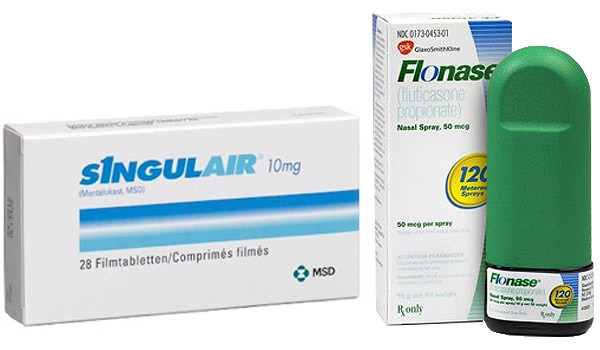 It's been less than a week and already my quality of life has improved to a ridiculous degree. For one thing, I can breathe through my nose again. I can't imagine what things will be like a week from now after the drugs have really had time to make a difference.
Of course, by that time I may be knee-deep in side-effects, but I guess I'll cross that bridge when I come to it.