I know I've bitched about them before... but, after driving through Seattle's horrendous traffic again today, I'm more enraged than ever at the money being spent for these ridiculous "Smart Signs" that are popping up everywhere. They're have got to be one of the stupidest fucking things I've ever seen.
The idea is that "Smart Signs" will slow traffic so that everything flows more smoothly during peak traffic times. But, in reality, the signs are always 10-20 miles per hour faster than the speed anybody can actually reach. This makes them effectively useless...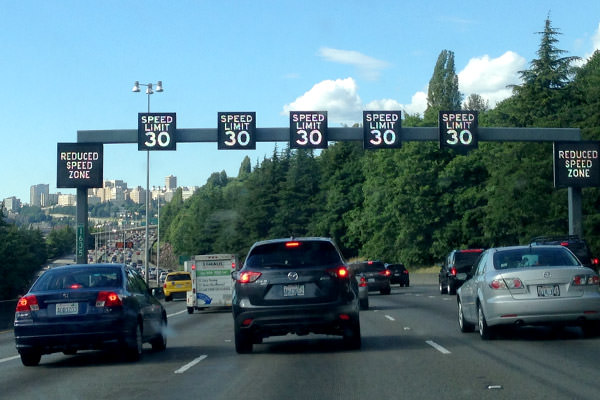 Here I am going 10 miles per hour in a 30 miles per hour zone.
So what fucking difference does it make if, instead of paying for these very expensive digital signs, there were much cheaper traditional 60 MPH painted signs on the side of the road? I'll tell you what... NO FUCKING DIFFERENCE AT ALL! These "Smart Signs" aren't doing shit. Except costing taxpayers absurd amounts of money. Slow traffic is slow traffic and you'll go however fast the traffic allows. No magical signage is going to change that. End of story.
But the "Smart Signs" keep going up.
Not that smart, Seattle.