Adobe Creative Cloud has arrived.
Adobe software upgrades are usually a reason to celebrate, but their controversial decision to make a monthly Creative Cloud membership the only way to use such popular apps as Photoshop, Illustrator, and InDesign has made a lot of people upset and angry. Sure you can still buy the old CS6 software, but any new stuff is members only. This kind of sucks, because if you aren't able to pay your monthly fee, any files saved in the newer CC format become useless. And, of course, to use the latest features you have to save in CC format. Catch-22.
Regardless, I thought I'd give a quick overview of the thing for anybody out there who's curious. And if you don't even know what Creative Cloud is? Hark! A promo video...
And now for this Creative Cloud business...
The bad news is that Adobe still doesn't beta test anything before release. Or, if they do, they do a really crappy job of it. Just as it's always been with their apps, I've found bugs and problems on my very first day. How the fuck Adobe can miss or overlook stuff that I run across after mere minutes of use is just beyond me. The only thing I can guess is that they know their users don't have any realistic alternative to their tools so they just don't give a shit.
Anyway...
Everything I cover will be on a Mac, because I honestly don't give a flying fuck about Windows anymore after Microsoft released the horrendous pile of shit known as "Windows 8." If you're using that hot mess of an OS, I apologize, but, damn.

The boat-load of apps that come with a Creative Cloud membership are now managed by a menu bar extension. I thought this was a lot nicer than the previous method of hunting down Adobe's Application Manager app, but the thing is (of course) buggy and defective, so it's a mixed bag. Never mind that it doesn't update itself after an app is installed (you have to restart your Mac for that), there is a much bigger problem. In that most times when you switch between Apple's virtual desktops (called "Spaces") the damn thing activates. That's right, it just opens up for no reason at all. And this is exactly the kind of thing I'm talking about when I question whether Adobe bothers to test their shit. I ran across this problem immediately after installation. How in the hell did Adobe's beta testers not notice it? Do they ignore basic Mac OS X features? This is fucking insane. And the fact that Adobe isn't embarrassed by things like this speaks volumes for what you're getting into when you sign up for their products.
But I digress. The menu extension looks like this...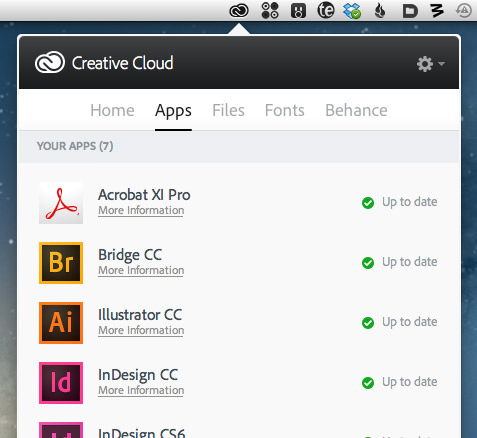 It's nice that you're told if your app is up-to-date, even though it makes the menu window huge. Oddly enough, if an app is not up to date, Creative Cloud doesn't have the ability to update it. Instead it launches Adobe Updater, which is kind of crazy. Why have one tool that can handle multiple tasks when you can clutter up a hard drive with two? Or, more likely for Adobe, twenty?
But I'm getting ahead of myself.
If you are a professional, you'll want to install the new CC apps next to your old CS6 apps in case you run into some heinous bug that prevents you from getting work done. Thankfully, this is fully supported. But what if you're a rebel like me who only wants the new apps? Do you have the option of overwriting Photoshop CS6 with Photoshop CC? Of course you don't! That would be too fucking convenient, and Adobe has a reputation for shitty, inconvenient installers, so that's not going to happen.
Welcome to Adobe manual uninstallation! It's stupidly inconsistent, but that's the Adobe way!
Some apps like Photoshop, Illustrator, InDesign, and Acrobat have uninstaller apps in their folders. That's not so bad, right? Well, sure... if they worked. The uninstaller for InDesign hanged and had to be force-quit. The unistaller for Acrobat said that Acrobat was an invalid application to uninstall. You get the picture. Though at least they have uninstallers. Apps like Bridge don't. Regardless of how much work you put into uninstalling (Mac App Cleaner helped a lot), you still end up with traces of crap scattered over your hard drive. I did a search to root out all things "Adobe" so I could trash them, but I'm sure pieces are still around somewhere. Guess reformatting my hard drive is the only way to truly clean out old Adobe apps?
After installation... which was surprisingly smooth and easy... I thought I'd just quit Creative Cloud since I wouldn't be needing it the rest of the day. But, surprise!, Creative Cloud doesn't like that because Creative Cloud doesn't fucking know if it's working on an installation or not!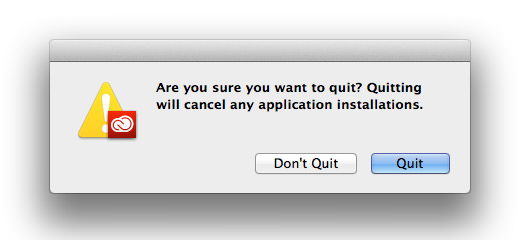 I suppose it's possible that Creative Cloud hands off installation to yet another app but, if that were the case, why would quitting cancel the install app? Insanity.
In what I can only describe as some kind of bizarre tease, two of Creative Cloud's non-app functions... Cloud File Storage and Cloud Typekit Fonts... are "coming soon"...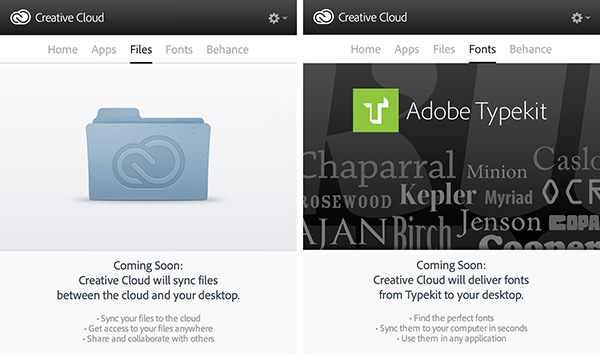 The third non-app function is Adobe's acquisition of "Behance" which is an online portfolio you can share with people. I'm already using Deviant Art for my portfolio, but it's free so I went ahead and signed up. Eventually I might even put something there.
And that's pretty much it for Creative Cloud.
But what about the new CC apps? Are the new features in Photoshop any good? Does Illustrator have any cool new toys? Does InDesign finally have decent performance at long last? Tune in tomorrow and see!
UPDATE! And the hits just keep coming. Turns out that Creative Cloud saying an app is "up-to-date" is not always true...

Shocking.