What a hunk of crap.
A little less than a year ago I was on a Kickstarter high, backing a lot of projects that looked interesting and useful. One of those projects was for the "Pebble Smart Watch," where my $115 pledge would get me an actual watch once the unit went into production.
My thinking was that something like this would be really useful when I travel. Often times I'm in strange places or potentially dangerous situations where I don't want to be flashing my iPhone around. Why invite somebody to steal it? Enter Pebble. This "smart watch" communicates with iPhone and can display notifications for calls, emails, texts, and such. It will also allow you to do simple tasks like control your music. So, cool, I can monitor my notifications without having to whip out my iPhone every time. Sounds good.
Eleven months later, guess what shows up in my mailbox? That's right, Pebble!
And it's pretty shitty.
First of all, it's huge. Massively huge. If you have boney little toddler arms like mine, it might as well be a brick...
As if that weren't bad enough, look how THICK this fucker is...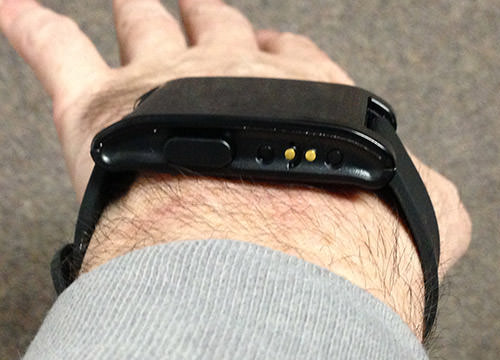 Oh... and did you notice all the little specs of dust in the case seams? IT CAME THAT WAY! I just took it out of the box, and it comes pre-dirty. And given the number of ugly seams scattered all over Pebble, I can only guess that it's going to look even worse once I actually walk around with it and it gets exposed to the elements.
What's so shocking is that this makes the bulky old Casio Calculator Watch I had in high school look positively svelte. Seriously, until you strap one of these massive things to your wrist, you have no idea how obtrusive and uncomfortable an accessory can be. There is no fucking way I am going to be wearing this around day to day.
If I were to actually consider wearing this pile of crap, I'd probably take time to do a complete review of the thing. Since I'm not, I can say this from the five minutes I played with Pebble...
Big as a brick. Display buried beneath enough plastic to choke a horse. Clunky, obtrusive, ugly design. Seams catch dust and grit before you've even taken it out of the box. Makes watch tech from the 80's look positively futuristic.
Tells time. And does so with switchable watch "faces"... most of which are hard to read.
Displays notifications from your iPhone or Android smartphone via battery-sucking Bluetooth. Suffers separation anxiety when your iPhone drifts out of range for too long a period of time. Does not want to automatically connect back to iPhone when it comes back in range.
Controls your music (play/pause, next song, previous song) and displays the currently playing track (I admit this would be cool if you're playing unfamiliar music).
Comes with a charging cable that attaches magnetically to the watch from a USB charger (not included) or any device with a powered USB port. Time will tell if Apple sues for trademark violation over their "MagSafe" patent.
Has a forthcoming free developer kit which will allow custom apps to be built. I'm not sure how much interactivity Apple allows iPhone to have over Bluetooth (I'm sure Android will be easier), but this could prove very interesting for Pebble owners.
No instruction manual or documentation of any kind. Everything is online.
And that's about it, really.
Rumor has it that Apple is working on a "smart watch" of their own. Why I didn't wait for that, I will never know.
So...
If you've got big wrists and like the retro-future possibilities that Pebble is promising, this may be a watch for you (hey, I'll sell you mine for $50 plus shipping! SOLD!)... otherwise, I'd give Pebble a pass.