I love toys. Or, I suppose I should say "I still love toys," since adults aren't supposed to play with toys. And my toy of choice? LEGO!
When they came out with LEGO Star Wars sets and games, I was ecstatic. It was a match made in heaven. Then came LEGO Batman sets and games, and I was in Toy Nirvana. Two of my most favorite things in the world together at last!
And now LEGO has gone retro and combined a childhood favorite with their latest line of sets... LEGO Chima...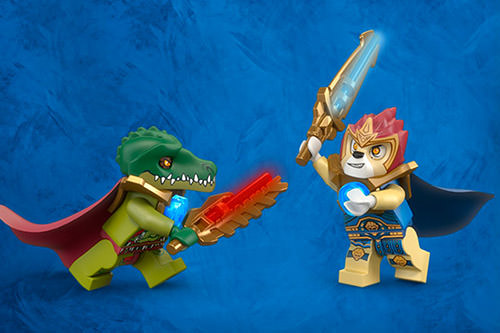 Looks kind of like Lizard Men vs. ThunderCats... Go Lion-O!
But it's not Lizard Men or ThunderCats that I'm talking about. It's what you can do with the LEGO Chima characters that has me all nostalgic...
The zip-cord pull that makes the LEGO Chima Racers go is the same technology used on a toy I loved as a kid called SSP Racers (which you can read about at Retroland)...
They were a lot of fun because everybody on the block had one, and we'd all get together to race. Mine was the purple "Laker Special"...

Photo taken by Mr. F.M. on Flickr
I don't have any plans of buy the LEGO Chima sets, but this walk down memory lane sure has me wanting my old SSP Racer back. I could probably play with it for a full 15 minutes before getting bored.