Find your happy place, because Bullet Sunday starts... now...

• Debate? I thought I was missing something by being in an airplane during the first presidential debate. Now that I've seen it, I realize I didn't miss much at all. President Obama was uninspiring, passive, and boring. Mitt Romney was artificial, creepy, and a dick. Neither was looking very presidential tonight... though at least Romney seemed to have some passion to him. That being said, I don't think either of them changed any minds. The biggest loser of the night had to be moderator Jim Lehrer, who couldn't moderate wiping his own ass. Pathetic. The next person who puts him in charge of moderating a debate should be shot. Then fired. I guess downsizing Lehrer is one thing that Mitt Romney and I can agree on? I just don't think that Big Bird should go with him...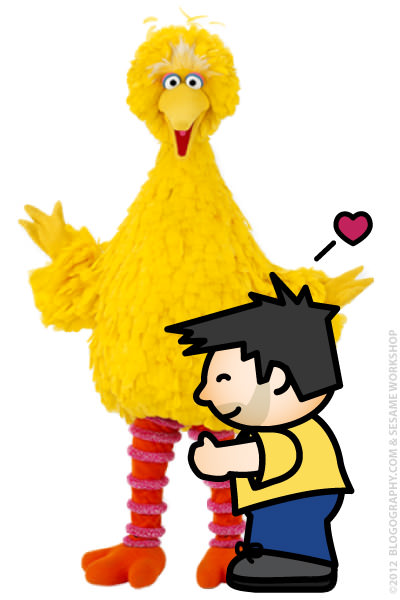 Given the dearth of stupid shit on television for kids, I'd say that supporting entertaining educational programs like Sesame Street is essential for the survival of future generations. Especially when you consider that Big Bird gets 1/100th of 1 percent of the congressional budget (PBS as a whole gets less than 1%). So, yeah, that'll make a fucking dent.

• Maries! If crack cocaine and mayonnaise had a baby, it would be Marie's All-Natural Salad Dressings. For the longest time I ignored them on the shelf because they were too expensive compared to the other salad dressings available. But last month I was bored and decided to try one. It was so frickin' amazing that I've been slowly working my way through every flavor available. Now that I've tried them all, I have narrowed my favorites down to Chunky Feta Cheese and Asiago Peppercorn...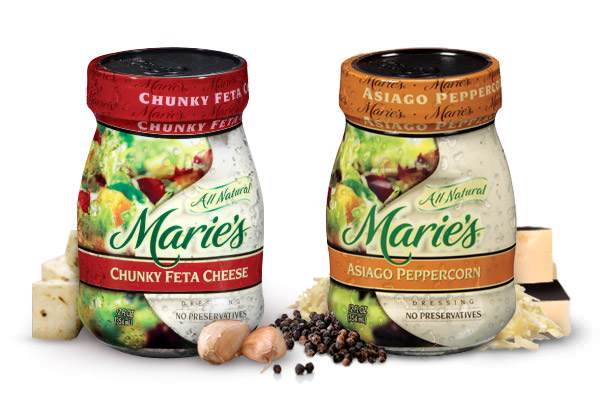 Anything that can make lettuce taste this good is worth every penny. And so now I'm going to be poor because I spend all my money on salad dressing. If you're looking for a pricey but delicious way to liven up your salad, I highly recommend giving Marie's a try.

• Television! Ooh! New TV shows! As a total television whore, this is a happy time for me. At least it was until I realized that there have only been four new shows worth watching out of all the stuff that looked intereting to me so far this season...
666 Park Avenue. Uhhhh... yeah... I couldn't even make it through the first episode. Cheesy and lame. And not in a good way. DROP
Animal Practice. I was hoping for "so stupid it's funny" but ended up with "so stupid it's stupid." DROP
Ben & Kate. Kind of reminds me of the genuine charm and humor found in Raising Hope. But here's the thing... Raising Hope is an absolute rarity because they somehow manage to sustain the charm and humor episode after episode. Something tells me that Ben & Kate are not going to be that lucky, and we're going to take a wrong turn into stupidity any episode now. I'll keep watching until that happens. KEEP
Elementary. As a huge Sherlock Holmes fan who has long felt that the character doesn't translate well outside the books... I was surprised to find that I like both the Robert Downey Jr. films and the Benedict Cumberbatch British television series. Not believing that lightning could strike three times, I was very dubious about Elementary, which adds some odd twists to the classic Sherlock trappings. Turns out I was right... this is nothing more than a "crime of the week drama" where the two leads have been given the names of Holmes and Watson, but bear little resemblance to the actual characters of Sir Arthur Conan Doyle. But, when you put that aside, I actually enjoy the show. The talents of Johnny Lee Miller and Lucy Liu coupled with some interesting stories makes for good television. KEEP
Go On. Look, I really like Matthew Perry. The guy was amazing on Friends. He killed in his guest spots on The West Wing. He was brilliant on Studio 60 on the Sunset Strip. I liked him in movies like The Whole Nine Yards, 17 Again, and Fools Rush In. Which is why it's hard for me to understand how heinous crap like Mr. Sunshine happens. And now we have Go On which isn't tragic, but merely mediocre and a complete waste of Matthew Perry's talents. It's not worth his time, and it's certainly not worth mine. How it's getting critical acclaim is beyond me. DROP
Guys with Kids. A tired and unoriginal show which (surprise!) has enough funny moments to keep me watching. KEEP
Last Resort. The concept of a US submarine crew gone rogue seems like an exciting and unique concept. Which it is, kinda. But, much to my disappointment, it ends up feeling like a bad soap opera most of the time. I'll probably tune in off and on when I want something to watch, but this really isn't what I had hoped for, and it's not going to get a permanent spot on my viewing schedule. DROP
Major Crimes. A reboot of The Closer sans Kyra Sedgwick seemed an almost foolish endeavor. Turns out it was. I still like the cast, including Mary McDonnell, but without Brenda Lee Johnson at the center, something is lost in the translation. DROP
The Mindy Project. It's hard not to be a fan of Mindy Kaling, but this show doesn't work for me. It has moments, but they're mostly overwhelmed by predictable, stale, tired cliches that nobody wants to see anymore. DROP
The Mob Doctor. Yet another medical drama... this time with mobsters tossed in the mix to try and make it new again. Doesn't work even a little bit. DROP
The Neighbors. I know people who love this wacky alien comedy, but I am not one of them. Painfully un-funny. DROP
The New Normal. Oh yay! 30 minutes of stereotypical gay humor tempered by a racist, homophobic, acerbic grandmother played by Ellen Barkin! It's just what the world has been waiting for! But... surprisingly I don't hate it. And it seems to be working okay now after the first two episodes fell flat. I guess the writers are getting it figured out. For how long I have no idea. KEEP
Partners. Oh yay! 30 minutes of stereotypical gay humor tempered by... nothing. Truly awful television that's annoying to an absurd degree. DROP
Revolution. After the horrendous fucking nosedive that Lost took because the writers had no clue what they were doing, I will never invest in a J.J. Abrams show again (I should have learned my lesson with Alias seasons 3-5). If the critical acclaim continues after the show ends, THEN I'll take the time to watch it. DROP
Vegas. I really want to like this show given the talent that's on (and behind) the screen, but it's just not working for me. I can't decide if it's deep and interesting... or just a bad knock-off attempt at recreating Boardwalk Empire. DROP
It will be interesting to see how Arrow, Nashville, and Chicago Fire fare, as I think they're the only new shows left that I want to see which I haven't seen.

Annnd... apparently I can't post this because my internet just went down. Guess I'll be late. Again.