Much to my shock, The Local Strangers... a band I actually like, took the time to stop by my little corner of Redneckistan to play a show. Things like this doesn't happen here very often. Which is not to say that we don't have any good local bands or that no musicians ever come to Wenatchee, far from it, it's just that the stuff I like rarely stops by. I mean, I don't see Matt & Kim or Depeche Mode adding us to their tour plans or anything.
I first heard of The Local Strangers last year when I was working in Seattle. I was hanging out with some friends who decided they wanted to go out. I didn't, but they said there was a really good local band playing, so I had to ask "who are they?" One of my friends Googled the band and said it was Aubrey Zoli... and Matt Hart, who was from Chicago. This rang a bell, but I couldn't put my finger on it. And then something clicked... "Wait... Matt Hart from Chicago... as in Matt Hart from Cobalt and the Hired Guns, Matt Hart? Well this I gotta see."
Cobalt and the Hired Guns is a local Chicago band that a colleague introduced me to when I was working there a while back. He was a big fan, and I ended up catching their show twice. Cobalt is a great band that makes some really fun music (they have a new album out that's worth a listen!), and I became a fan as well.
Turns out it was indeed that Matt Hart, who was now in Seattle making incredible music with the beautiful voice of Aubrey Zoli as The Local Strangers. Who I got to see again tonight...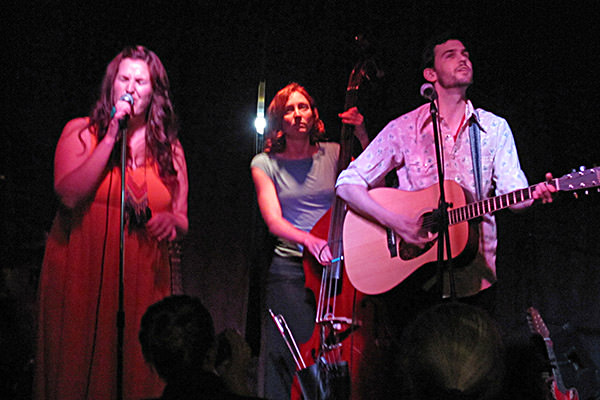 A really great show from an incredible live band.
Not so long ago, Ms. Sizzle made me aware of a Kickstarter campaign to fund The Local Strangers' first full-length album. I immediately signed on for a Lifetime Membership, and was thrilled when the campaign was successful. Then last night Aubrey and Matt announced a release date of November 9th for the album and I can't wait.
If you want to listen to what the band is all about for FREE, just go to their website and sign up for their email list so they can let you know when they're playing in your area... you'll then get a link to download their two EPs which is a terrific sampling of their music.
Needless to say, if they're performing near you, it's a show well worth checking out.