Last night as I was sitting down to dinner, I had some unexpected pains shooting through my groin. "Well, this can't be good!" I said out loud to nobody in particular.
And, sure enough, it wasn't... because a couple hours later it felt as though I was pissing razor blades through my urethra. "That's funny," I mused... "I don't recall buying a diseased crack-whore recently!" Though, to be fair, my memory isn't quite what it used to be, so I went to bed wondering if I was going to end up with a prescription for penicillin and a frowny-face in my medical record next to some exotic STD.
Then, sometime around 4:00am, I awoke to agonizing pain shooting through my John Thomas.
Seriously, it felt as if my unit had been sliced open... turned inside-out... and then had lemon juice poured on it.
Hobbling to the toilet, I was fully expecting my wanger to explode into shredded streamers like a party popper...

Image from Yatego Shopping.
But instead... a kidney stone dropped out, and the pain instantly subsided.
Yes, somehow I had a kidney stone and never even knew it. That's because usually a kidney stone starts causing excruciating pain long before it gets to the end of the line...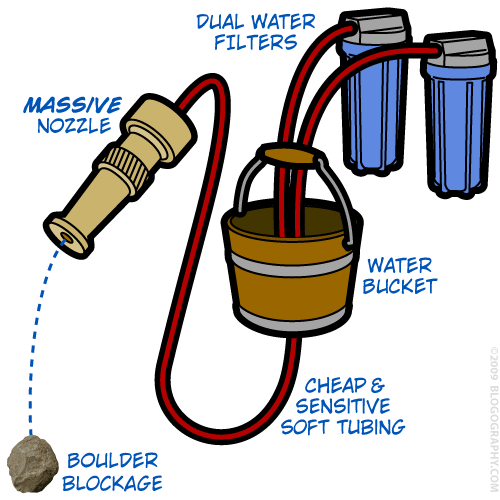 Usually, I am in total agony as the stone travels from my "Dual Water Filters" (kidneys) to my "Water Bucket" (bladder) all the way through the "Sensitive Tubing" (urethra) and out my Massive Nozzle (wiener)... which can take days. This time I didn't feel a damn thing until the bastard made it to my "Sensitive Tubing."
Which is very odd (but totally welcome because it saved me several pain-filled days in bed). Guess I'm just lucky that this got cleared up in time for me to take an early drive over to Seattle for work this morning.
But was it alone? Or can I be expecting a buddy to start causing hideous amounts of pain any minute now...