For some reason I am a bit jetlagged after my short trip to Hawaii. On the surface, this seems ridiculous. It's a measly three hour time difference, which is nothing compared to a lot of my travels. My guess is that my crazy work hours are messing with my sleep schedule, and Hawaii just exaggerated everything.
If there's an upside, it's that I'm actually sleeping more than my usual 3-4 hours.
Unfortunately, this additional sleep is happening at 5:00pm.
Which means I am wide awake from 10:00pm and don't get tired again until 7:00am when it's time to get ready for work. This morning I was so tired that I forgot to zip my pants up as I headed out the door. They fell down just as I was opening my car door, leaving me pantsed in the parking lot...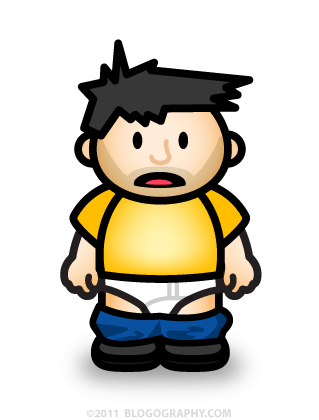 Luckily I also forgot it was Commando Friday, or else I could have been arrested for indecent exposure.
All the television shows I watch have had their fate announced. Since I am a total television whore, this is important stuff. Since most people are not total television whores and couldn't care less, I've put my thoughts about it all in an extended entry...
These are only the shows I watch regularly. Shows I loathe (like Chuck) or shows I only watch occasionally (like The Office, Family Guy, and The Simpsons), are not included. Rather than recap what each show is about, I've just provided a Wikipedia link in case you are unfamiliar with it...
RENEWED!
• Happy Endings. This show came out of nowhere and completely blew me away. I expected it to be yet another Friends clone (perhaps with elements of the original Coupling) but it easily holds its own. For one thing, we finally get a bit of comedic diversity thanks to Damon Wayans Jr. as Brad (who is black) and Adam Pally as Max (who is gay). But here's the thing... the diversity is NOT just shoe-horned in the show as throw-away stereotypes. Brad and Max are integral to the dynamic of the group, and their ethnicity and orientation are not the entirety of the characters. It's just a facet, like it would be for a real person. But whatever... I have fallen in love with the characters and the show. The fact that it's funny as hell is just icing on the cake.
• Raising Hope. When this show debuted, it instantly became one of my favorites of all time. It's funny and perfectly cast, yes, but hidden amongst the redneck trappings of this goofy family is a genuinely touching story with a lot of heart. The characters may not be the sharpest tools in the shed, but they're genuine nature never lets them sink to being stupid. This is such a fine line to walk, but Raising Hope never falters. Truthfully, this is about as flawless as television gets.
• Castle. I expected to like this show because I like the actors playing the main characters. I did not expect to end up loving the show because the main characters are just so damn good. It's a "mystery of the week" drama that manages to have a good deal of humor thanks to the amazing chemistry between Nathan Fillon and the brutally hot Stana Katic. Every episode has been entertaining, and there's no reason to doubt the show will continue to be that way in future seasons.
• Grey's Anatomy. This show has no right to be this good after being around for so long. It should have burned out long ago. And though it did falter for a while during the whole "Dead Denny" stupidity, it rebounded quickly after jettisoning the ridiculous drama with Katherine Heigl's "Izzy" and her lame storylines.
• Rules of Engagement. Another show that just keeps chugging along with reliable laughs.
• Fringe. In many ways, this has surpassed the high bar set by The X-Files for sci-fi drama on television. It's SO good that I can't believe it's still on the air. Usually anything this smart and complex would have died after only a few episodes.
• Community. Never disappoints. Great television.
• Modern Family. While it tends to dip into The Stupid Zone much too often for my tastes (usually involving Ty Burrell's "Phil Dunphy"), I still think the cast, characters, and stories are worth the effort.
• The Big Bang Theory. Just as I was getting bored with the characters and was going to stop watching, they introduced Mayim Bialik's genius in the form of "Amy Farrah Fowler"... and now I can't get enough. Completely reenergized the show and made it worth watching again.
• How I Met Your Mother. Don't know how they manage to keep this show interesting, but they do. So long as they keep adding a new Robin Sparkles episode each season, I'll keep watching!
• Cougar Town. What can I say? It's a guilty pleasure and I never miss an episode.
• Hawaii Five-0. I fully anticipated hating what was sure to be a pale imitation of the original show, but was proven dead-wrong. Solid entertainment with some really good continuing plot-lines that I've really enjoyed every week.
• 30 Rock. Sometimes it skates past the edge of sanity... and not in a good way... but I still find it entertaining more often than not.
• Parks and Recreation. I like this show most of the time. I do skip episodes on occasion when they go off the rails and end up groan-inducing rather than laugh-inducing.
ENDING!
• Smallville. The final episode of this show exploring the early days of Superman is airing tonight. I don't even have to guess as to whether it will be good. It will be great. The creators of Smallville have worked hard to remain true to the characters while looking at the Superman legend with a fresh approach, and it's all paid off... particularly over the last two seasons. I will miss this show a lot, and really wish they would continue on with a weekly Superman series starring the same cast. UPDATE: Um... well... not bad, but far from the majestic finale I was expecting. The beginning of the two-hours was so boring that I almost didn't make it through. Oh well, still a lot of great stuff over the past decade to celebrate.
CANCELLED!
• Human Target. FUCK! This was a fantastic show with plenty of action, compelling stories, and great acting... so how in the hell did it fail? It's practically bullet-proof television, and I just don't understand it. One would hope that they would continue on with made-for-television movies or something, but whatever. FUCK! FUCK!
• Better With You. The only reason I started watching this show is because I will watch anything that has Debra Jo Rupp in it. That being said, I had the lowest possible expectations. The whole "three levels of relationships in the same family" concept just didn't resonate with me, and the concept became tiresome quickly... mostly because it was pretty much the same thing over and over again. But then it kind of grew on me. I never really loved it, but I did watch it every week and, for the most part, enjoyed the show.
• Mr. Sunshine. I watched it, but will not miss it. A tragic waste of amazing actors like Mattew Perry and Allison Janney who were left flailing aimlessly in one stupid situation after another. In the end it was more sad than funny, and I was watching because of the actors not the show.
• Off The Map. Hoping to cash in on the popularity of Grey's Anatomy, they moved it to the jungle... where it bored the shit out of me. There were hints of dimensionality to the characters, but it was so slight and artificial that you could barely relate to anybody. This had me loathing half the cast and not caring about the other half.

Annnnd... that's a lot of television! Hopefully there won't be too many good shows in the new season so I can do something other than watch TV this Fall.