The past two weeks have been a blissful whirlwind of not traveling.
I had thought that I would be starting up again next Thursday... but just found out I got the date wrong. It's the Thursday after that. Ordinarily this would be a good thing. I've been killing myself to get caught up with life, and now I can relax a bit because I've got a whole extra week. Except... now I've got to be in two different cities on the same day, so I've got to reschedule a bunch of stuff. That's always makes for good times.
Guess I'll worry about that on Monday.
Anyway... today was set aside for Spring cleaning. I took absolutely everything out of my bedroom so I can dust, wash, vacuum, and scrub. It's a lot of work, but it makes living with allergies a bit more comfortable. My intent was to put everything back after cleaning, but now I'm tired and don't feel like it. This means there's crap piled everywhere. Except in front of the television. I cleared a path so I could watch last night's episode of Fringe.
And, of course... NEW DOCTOR WHO!!
I never much cared for the latest incarnation of The Doctor until that wonderful, magical, touching, amazing episode with Vincent VanGogh, then I became pretty much obsessed with the show. Again. It doesn't hurt that Steven Moffat is running the series now. I've been a huge fan of his since Coupling.
They filmed some of the episode here in the USA and it was a very good... albeit slightly disturbing... season opener...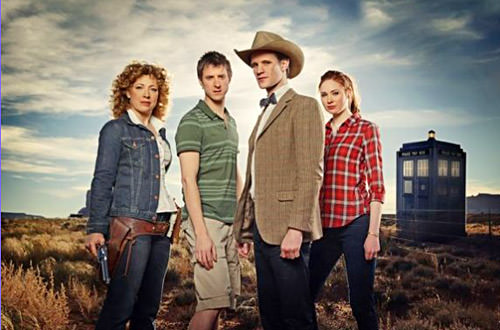 Something about aliens which you can only remember seeing while you're looking at them (then forget about them the minute you're not) is a frickin' fantastic concept. The cliffhanger ends with a question... "How can you fight an enemy you can't remember?" A very good question! I'll be watching to find out next Saturday.
And now I suppose now I had better go at least put my bed back together so I have a place to sleep tonight.
What a fun way to spend a Saturday night!