A while back I got a phone call from Charter Communications, my cable company. It was a sales guy telling me that I could lock-in a great rate for more services than I currently had at less money than I was currently paying! "Wow! How can you do that?" I asked. "You're a good customer, and we want to keep you!" they said. "But what's the catch? How can I get more for less?" I asked. "No catch!" they said... "You just have to agree to a two-year contract!" I kept asking questions but, at every turn I was assured that my total bill would be less money.
Confident I had covered all the bases, I said "Sign me up!"
It ended up not being true, of course.
The first time I called because my bill was higher, I was told the increase was temporary because I made a change in the middle of a billing cycle. Today when I called a second time because my latest charge was still higher than I had been paying, they said the amount was correct. They didn't give a crap that I was promised something different. The situation was all my fault, and if I wanted to change my services, I'd have to pay $190 to get out of my contract or just suck it up and pay the extra $40 a month that I had "agreed" to.
They obviously don't know me very well. This wasn't some case of "buyer's remorse" over an agreement I made ten months ago and suddenly had second-thoughts over. This was a second complaint over an agreement I just made. I was LIED to. Twice. So here was MY plan...
Cancel my phone/television/internet package. I can just use my mobile phone as a phone, buy television shows I want from AppleTV or watch them on Hulu or Netflix, and go back to DSL for internet.
File a complaint with the FCC for fraud.
Contact the Dispute Resolution Center for Chelan County and schedule an appointment to see if I had a small claims case.
Write a scathing blog entry and promote it on every single forum I could find where Charter customers would see it.
Be relentless about crapping all over Charter every single place I could... including working it into any blog entry I could think of... every conference I speak at... every blogger meet I attend... every magazine article I author... every opportunity everywhere.
I may have to pay $190 to get out of the contract of lies Charter had trapped me into... but they would be the ones paying for it. And I started my dissatisfaction campaign by posting this on Twitter: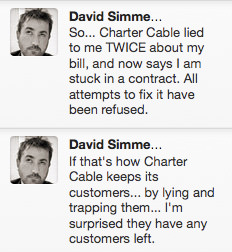 Which was almost immediately replied to by a Charter Cable Twitter rep...

And... problem solved. Everything was fixed.
This was astounding. Somebody at Charter actually gets it. Somebody at Charter knows the value of customer service. Somebody at Charter understands that righting a wrong and keeping a customer happy is in the company's best interest. How? Let's take a look at my value as a customer to Charter Communications from the perspective of PHONE support vs. TWITTER support...
MY CUSTOMER VALUE...
CHARTER PHONE SUPPORT
MY CUSTOMER VALUE...
CHARTER TWITTER SUPPORT
AFTER ONE YEAR
$190
$1,529.16
AFTER TWO YEARS
$190
$3,058.32
AFTER THREE YEARS
$190
$4,587.48
AFTER FOUR YEARS
$190
$6,116.64
AFTER FIVE YEARS
$190
$7,645.80
The customer service agent in phone support would have gotten the $190 early termination fee... and nothing more. Ever. On top of that, they would have had a very unhappy ex-customer who would spend their every waking hour thinking up ways of telling everybody and anybody how they had been lied to and cheated by their company.
The customer service agent on Twitter, however, now has a happy customer worth thousands of dollars to their bottom line over the next several years.
That's a $190 one-time payment vs. $1,529.16... ANNUALLY.
How do companies like this stay in business when parts of their organization don't understand the long-time value of a customer? All they see is policy regardless of consequence. They don't care what promises were made, they only care about what excuses they can make as to why they were made. They don't care about solving a problem, they only care about passing blame as to who is responsible for it.
I was told my bill would be less than I was paying.
And, in the end, it wasn't even the money that was important to me. It was the principle.
I'm not some whack-job trying to weasel my way out of an agreement I made. I'm a customer who was made a promise that was not kept. Every attempt to rectify the situation was met with more broken promises or outright defiance. Until I posted a complaint to Twitter and somebody at Charter saw it and decided my value as a customer was worth saving. And it's refreshing to know that somebody at Charter gives a crap about saving their revenue stream.
Because it only takes 131 customers.
Saving just 131 customers like me over a 5-year period is worth over a MILLION DOLLARS to Charter Communications. With money like that at stake, it's just a pity that George Vick isn't in charge of all customer service at Charter.
Because after what I've been through today with their phone "support," I have to seriously question whether the company will even be around in five years.

UPDATE: For those who asked, the problem was solved by removing all the extra "premium" channels and taking me back to the package I used to have, which is fine by me. I never cared about having the extra channels, and the only reason I added them in the first place was because I was told my monthly charge would be less money than I was currently paying (with two-year contract). Am I happy that Charter has a sales force which lies as a matter of policy? No. But I otherwise like the service I had at the price I was paying, so getting me back to where I was at is all that matters to me.