I'm thankful for a lot of things. Today I'm most thankful that I'm not a turkey...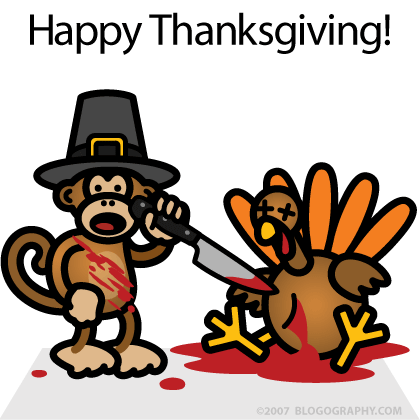 I drew this three years ago, and it still pretty much sums up how I feel about the holiday. While I am a vegetarian, I am not a militant vegetarian who tells people not to eat meat, because I feel it's a personal choice everyone has to make for themselves. But meat is just so dang easy now-a-days, and I don't think people truly appreciate the creature that gave up its life for their meal. I wonder if people had to kill the poor turkey with their own two hands how many of them would still feel like serving one up for Thanksgiving dinner?
Anyway... I hope everybody has a happy Thanksgiving! And I hope everybody is just a little thankful for that slice of turkey on their plate. After all, he was a happy little bird at one time...

Baby turkey photo from Wikimedia Commons by Kristie Gianopulos.
And now I get to be thankful that I've got a suitcase to unpack.
Which I definitely am because the alternative is packing a suitcase and, with all the snow and ice that's landed, I'd just as soon stay home for a while.