"The venom of a black mamba can kill a human in four hours if, say, bitten on the ankle or the thumb. However, a bite to the face or torso can bring death from paralysis within 20 minutes. Now, you should listen to this, 'cause this concerns you. The amount of venom that can be delivered from a single bite can be gargantuan (you know, I've always liked that word... "gargantuan"... so rarely have an opportunity to use it in a sentence). If not treated quickly with anti-venom, 10 to 15 milligrams can be fatal to human beings. However, the black mamba can deliver as much as 100 to 400 milligrams of venom from a single bite."
— Elle Driver, Kill Bill Volume 2

When I travel, it's often for a job that occurs at a specific time whether I am there or not. Because of this, I often fly in a day early, just in case my flight is delayed or some other problem rears its ugly head (like yesterday!). This is especially necessary in winter, when travel problems pop up all the time. The bad news is that I lose a day back home where there's tons of crap waiting to be done. The good news is that if I do make it to my destination on-time, I have a day to goof off.
Like today.
I awoke early so I could get my work done and head into the city for some much needed time off. Unfortunately, things didn't get done as quickly as I had hoped, and I couldn't leave until noon. But half-a-day in Atlanta is better than none. Except I had to go all the way up to the Lenox Mall to buy a new power adaptor for my MacBook when I discovered the one I brought had mysteriously died overnight. With delay piled on top of delay (not to mention waiting 35 minutes for a train!), I missed my opportunity to visit ICE-Atlanta, and instead decided to wander around downtown Atlanta to see if I could find something new to do.
I couldn't.
So I decided to do something I haven't done in a while... go to the top of the tallest hotel in the Western Hemisphere: The Westin Peachtree Plaza. Given my fear of heights it wasn't exactly the funnest thing for me to do, but it was a nice day and I hadn't been up it since my first trip to Atlanta ten years ago. I probably would have gone up earlier, but was scared away by all the scaffolding as they replaced windows that were damaged by the tornado that hit Atlanta in 2008.
Anyway...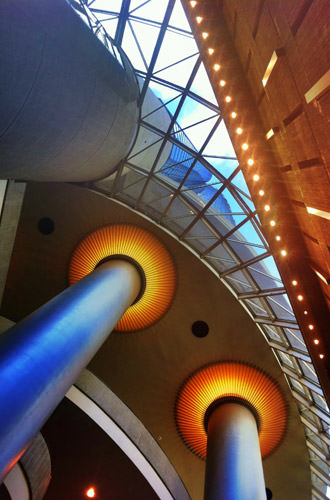 After ascending the 73 stories, this is what I saw...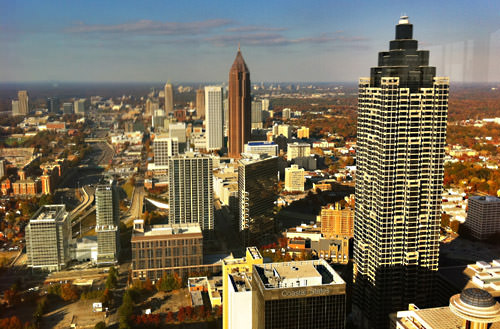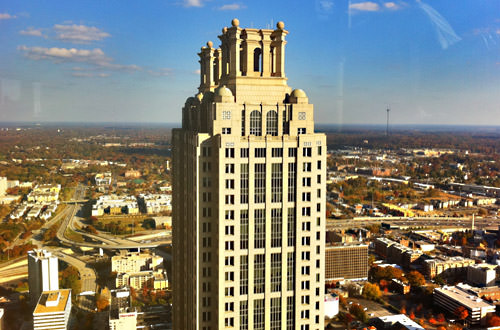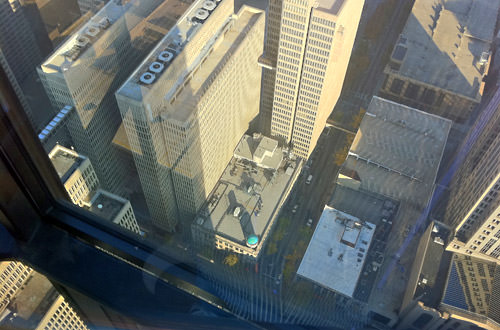 That turquoise-looking dome is the top of the Hard Rock Cafe

After wandering around adding stamps to my Gowalla collection, it was time for pumpkin beer at 5 Seasons Brewing Co. with The Muskrat, Whipstitch, and Geeky Tai Tai and friends!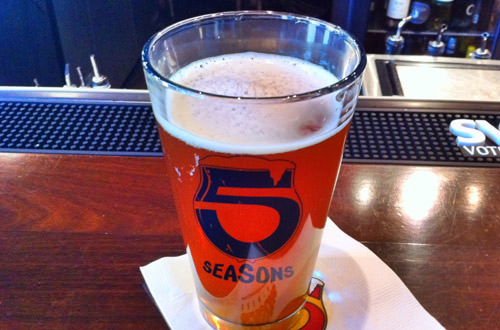 Which is really the best reason to come to Atlanta.
And now it's off to work...