Since I couldn't get a flight home today without paying a fortune, I'm flying home tomorrow on the cheap. I thought the whole "Saturday Night Stay" price-reduction scenario had died off in the airline industry, but apparently it's alive and well. Though it's not like I'm going to complain about having a free day in Chicago, which is one of my favorite places. Especially since the city is full of friends that I can hang with when last-minute travel plans drop in my lap.
My day pretty much went like this... work, take a shower, work, put on clothes, work, lunch and LEGO hunting in the city, work... movies.
The strange part here is the movies, because I so rarely have time to see them.
And I hate going to the theater.
Because going to the movies pretty much sucks ass anymore. People talking. People texting. People taking calls. People sneaking in noisy bags of Doritos and other distracting crap. People in general, really. Because people are stupid, rude, and suck ass.
But my hotel was near Muvico, which is supposedly a much better class of theater, and so I thought my problems were solved.
First I saw Angelina Jolie in the post-cold-war spy-thriller Salt, which I enjoyed quite a lot. It's kind of a cross between No Way Out and James Bond in a nicely stylized film that keeps the action moving. Sure there are entire sections that were downright silly in their implausibility, but overall I thought it held up pretty well. At the very least, it was entertaining, which is about all you can ask for in a movie.
I saw Salt in Muvico's "regular" theater. It's the same as most theaters, but the seats and views are a bit nicer. That didn't change the fact that I ended up staring at glowing mobile phone screens throughout the whole damn movie...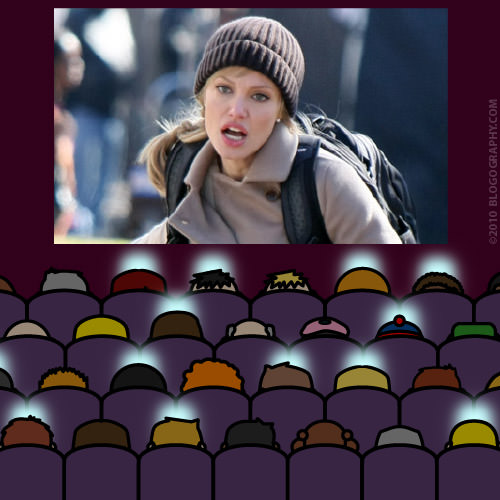 Next I saw Inception, which is a clever Christopher Nolan film that proves his previous successes with Memento and The Dark Knight were no fluke. And though I usually don't care for Leonardo DiCaprio, I thought Joseph Gordon-Levitt and Ellen Page more than compensated with their excellent performances. The story involves corporate espionage via "shared dreaming" which is an interesting concept to begin with, but Nolan (who both wrote and directed) took it to the next level by tossing in a nice dose of reality-bending twists. The result is both interesting and entertaining, which is a rare surprise. This is not to say that the film is flawless... there were more than a few problems with the internal logic of How Things Work, and Ellen Page's character was a laughable catch-all for any story exposition or filler that Nolan needed to keep things moving. But still... a solid effort, and well-worth your valuable time.
I saw Inception in Muvico's PREMIUM theater. Here you get a huge comfy seat and free popcorn for the bargain price of $20. Or at least it would be a bargain if it lived up to the hype. The problem is that the theater has other people in it...
The idiot to my left was regularly lighting up the theater by checking messages and texting on his phone. This is expressly forbidden but, since Muvico does nothing to enforce it, it happens all the time.
The idiots to my right were typical talkers, whose scintillating conversation involved such clever exchanges as "Where's the bathrooms in this place? answered by "They're outside!" Never mind that you pass directly by the bathrooms on your way into the theater AND there are giant signs pointing the way, THIS is worth interrupting the movie for?
The idiots behind me didn't understand what the heck was going on in the film, so they decided to talk about how much better Titanic was.
The idiot in front of me decided to do yoga stretches every 15 minutes, waving their arms in front of the screen.
Despite the high-class nature of the theater, half the chairs squeaked horribly, which meant that I was audibly annoyed even when people shut the hell up. How Muvico can have such poorly-maintained facilities and still justify charging $20 a ticket is beyond me.
And why do I go to movies in the theater again? Even the so-called "premium" experiences such ass.
Guess I'll just start waiting for Blu-Ray.