Uh oh...
The next two weeks are going to be nothing but work, which presents a problem for this blog. With nothing interesting going on that I can write about, what happens to Blogography? I could go on hiatus, but odds are I'd never come back. I suppose I could scour the internets for YouTube videos and other crap to post, but that's not really me. So what to do?
Looks like it's going to be the TWENTY/TWENTY meme! Every day for twenty days you get a word, and it's up to you to post something related to the word. It's not the most imaginative way to blog, but at least it's a starting point at a time when I don't have anything.
Today's word is MIRROR!
For which I'm going to post a picture I took of myself when I was in Reykjavik on my way to Stockholm on September 25th, 2003. I had been traveling and working for five solid days, and was looking a total mess (I nearly had to check those bags under my eyes at the airport). I took this photo so I could show my girlfriend what she wasn't missing...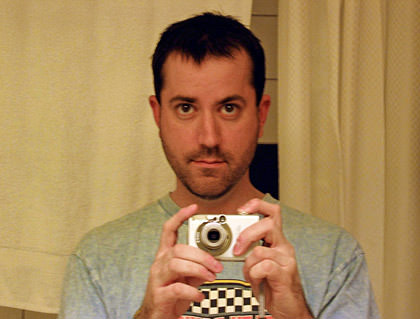 Little did I know, things would get even worse the next night in Stockholm when I would cut my chin open in a tragic karaoke accident. Can't. Catch. A. Break.

In other news, I installed iOS version 4 on my iPhone. I can't say that it makes a lot of difference since I've got an older iPhone 3GS, but the ability to combine apps into folders makes it well worth the time to upgrade. I feel at least 223% more organized now. What more could you want in a phone? Well, except to be able to make phone calls, of course.