I'm making a futile effort to update my non-functional blog on Bullet Sunday! Nothing is more fun than coming back from a long trip and finding out that your blogging software refuses to publish entries!

• Bridge! After spending Friday visiting every "Featured Gowalla Spot" in Manhattan (and one in The Bronx). I noticed that there were only three spots left to claim in NYC... The Statue of Liberty, JFK International Airport, and The Brooklyn Bridge. Since the three times I've visited Lady Liberty are enough, and I had no intention of going all the way out to JFK, that left me looking at The Brooklyn Bridge badge. I hadn't walked the bridge in over a decade because I always just take the subway to get to Brooklyn. But it was a beautiful day and I had time to kill, so away I went...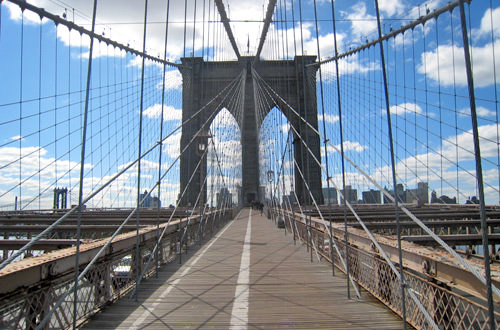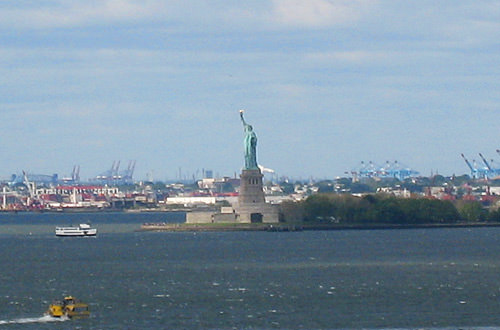 It was a fantastic walk, and left me wondering why I don't make time cross the Brooklyn Bridge every time I'm in New York City.

• Brooklyn! One of the best reasons to cross the Brooklyn Bridge is to have pizza from Grimaldi's...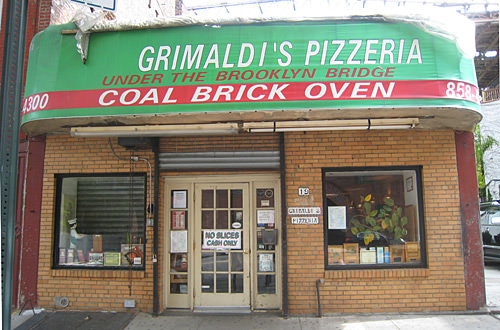 Alas, it's rough to visit the place when you're alone because they don't sell individual slices. I probably would have ordered an entire pizza just because it tastes so good, but I didn't have two hours to hang around waiting for them to open. Instead I just wandered around the pretty tree-lined streets for a while before heading back to Manhattan...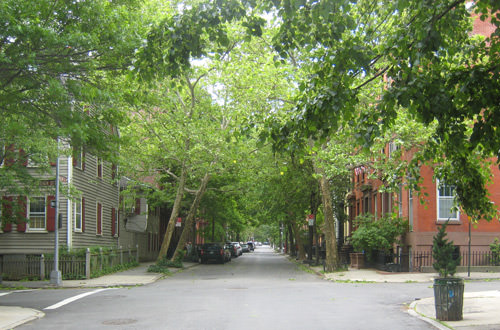 • Spot! One goal I had for myself was to create a Gowalla Spot while I was in New York, but most of the good ones have long-since been taken. I didn't want to just pick some random business I'd never go to, but instead was looking for something a little more interesting. I finally found it when I saw that a metal sculpture honoring the Brooklyn Bridge creators on the centennial of the bridge's opening...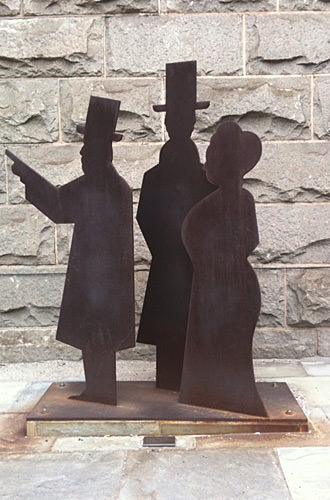 You can see the spot I founded over at Gowalla.

• Bagel! I ate two bagels every morning I was in New York City. When I wasn't eating bagels, I was eating slices of pizza. As I sit here writing this, it has suddenly occurred to me that I won't have another decent bagel or pizza slice until the next time I end up in New York, which could be months (years?) away. Now I am filled with dread at the thought of eating my next "bagel," which will probably not be from NYC and taste like rubberized crap. It's sad, really.

• Wind! Just like yesterday, gusting winds were ripping through the city which made air travel a bit problematic. My flight was delayed four times before I had even made it to Newark, which was a very bad thing because I had a tight connection in Seattle to catch my flight home. Ultimately we "made time up in the air" and so I was able to get to my connecting gate with three minutes to spare. Sometimes you just get lucky. Well, I usually don't, but most people do.

I miss New York already.
I'd try and fix my blog so I can publish this, but it's past midnight and I have an early day.