Home at last. And so very, very tired.
In other news, I'll be a VERY SPECIAL GUEST on an ALL NEW EPISODE of Jestertunes Radio THIS COMING MONDAY, DECEMBER 7th! The show starts at 4:30pm Hawaiian, 5:30pm Alaskan, 6:30pm Pacific, 7:30pm Mountain, 8:30 Central, and 9:30 Eastern times here in the Americas. If you're outside of those time zones, you can find your local time at the World Clock Converter...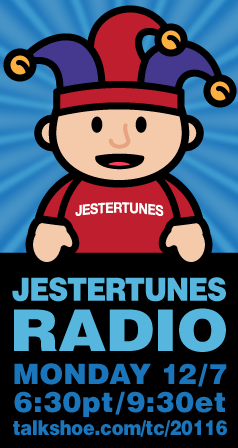 Bookmark the TalkShoe site now so you can join us! I have no earthly idea what we'll be talking about, but good times are always assured on The Jester Show!
Except for that time I had a kidney stone attack on-air. That wasn't a good time at all. Any show that involves you being rushed to the hospital is about as far removed from a good time as a show can get. Well, for me anyway.
So tune in on Monday and see what horrible new tragedy will befall me on-air!
UPDATE: Jester's comment reminds me that I should probably mention that The Jester Show is R-Rated. It's probably X-Rated. If you are a sensitive individual who doesn't appreciate foul language, explicit talk, and adult situations, then it's probably best that you NOT tune in. Wow. Now that I think about it, maybe it's best if I don't tune in either. I'll do the show with potholders pressed against my ears while saying "LA LA LA LA LA LA!"