If there is anybody on earth whom I think needs to write a book as a life guru, it's Tim Gunn from Project Runway.
As is usual when I'm a day from flying off to parts unknown, chaos reigns. I've got a dozen projects all going at once, a million things to do, and very little time to get everything done. Complicating matters are new challenges that are being added right up until I board the plane. It would be nice if the world could just stop and let me catch my breath for a minute, but that hasn't happened in decades. Such is life.
Which is where Tim Gunn comes in...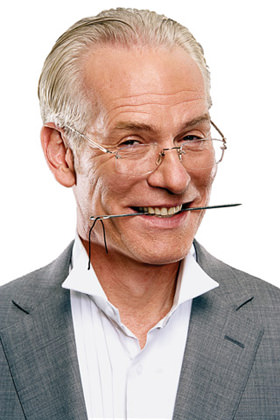 For those who don't know who he is, Tim Gunn plays "mentor" to the contestants on the fashion design competition reality show Project Runway. While the designers are assembling their clothes, Tim comes rushing into the room and offers his pithy advice and criticism in an effort to "help." This usually consists of him remarking that a piece of clothing looks "matronly" or it looks "messy" or it looks "fabulous."
But the best part is when the designer is freaking because time is running out and they're struggling to meet their deadline. That's when Tim gets to offer his best advice. It's all at once brilliant, simple, yet necessarily detached...
"Carry on!"
"This worries me!"
"You've got a lot of work to do!"
"GO GO GO!"
And his most famous catch-phrase, "Make it work!"
Which is exactly the type of stuff I need to hear as my world is crashing down around me and I'm close to thermonuclear meltdown. But... once Tim gets in your head, he tends to stick there...
So now I'm ready to go to bed in a feeble attempt at sleep, except Tim is still running through my mind cheering me on.
How am I supposed to lapse into sweet slumber with "GO GO GO!" on infinite repeat?