Apparently, there's legislation underfoot that will force bloggers to write a disclaimer when they're being paid to write about stuff. It has something to do with FTC guidelines governing endorsements, which is kind of silly if you ask me. Honest bloggers are going to disclose that kind of stuff anyway... dishonest bloggers are going to lie regardless of any guidelines they're handed.
So, in the interest of full disclosure, I am going to be reviewing a book I was given by a fellow blogger. He did not ask me to review his book, he just asked me if I'd like to read it. I said yes. And I'm going to review it because I liked it... not because I got it for free. If I didn't like it, I would have undoubtedly not reviewed it. Not because I felt I was under any obligation for getting a free book... but because there just wouldn't be much point in it. Of course, if the book was a steaming pile of crap, I would have been obligated to warn everybody to stay away and not to waste their time. I'm a decent human being that way.
Anyway... here's a look at Mercury Falls, the debut novel by Rob Kroese, who is probably better known as "Diesel" from Mattress Police...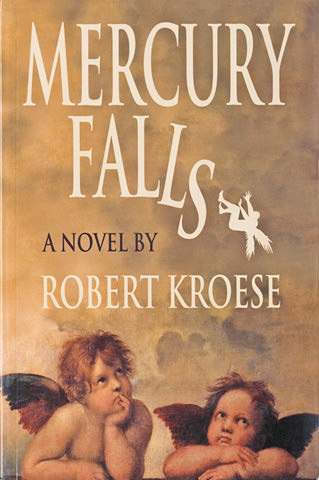 I was prepared to hate Mercury Falls, mostly because the official web site had it positioned as being in the vein of Hitchhiker's Guide to the Galaxy which is one of my favorite novels of all time. You simply do not go setting yourself next to a giant like Douglas Adams and walk away unscathed. It's just not done. I don't care how funny you think you are, such a statement only serves to set the reader up for disappointment.
"Mr. Kroese... I have met Douglas Adams (twice!), and you sir are no Douglas Adams."
And yet...
I enjoyed this novel.
A lot.
The story sounds as if it might be a mash-up between Kevin Smith's film Dogma and Douglas Adams' Infocom Game Bureaucracy, but actually has a unique voice all its own. Basically, the end of the world is upon us (for real this time), and the bureaucrats of heaven and hell are each maneuvering to come out on top. The Apocalypse only gets more complicated when a fallen angel (Mercury), an End-Of-Days reporter (Christine Temetri), and the newly-appointed Antichrist (Karl Grissom) enter the picture. Everybody has an agenda, and nobody is quite sure who's playing the side of the angels... or demons... as the plot to save the world unfolds. Hilarity ensues.
I found Mercury Falls to be really clever, with an abundance of witty dialogue and enough twists to keep things interesting right up to the last page. Chunks of the book are very funny, as one paragraph after another was dripping with a biting humor that seems unsustainable, but Kroese somehow manages to keep going. Things do bog down a bit when somebody gets mired in explaining the bureaucracy of heaven and hell, but never in such a way to kill the story. I particularly liked the characters, each being fully-realized with enough baggage and personality to make them memorable (after meeting Karl, you'll never think of the Antichrist the same way again, that's for sure!).
The novel is infused with numerous pop-culture references and an inexplicable affinity for linoleum that drives a lot of the story's humor. This would usually spell disaster because the plot gets shoved aside to make room for jokes, but everything seemed nicely balanced and just kind of "worked." By the time the "Four Attaché Cases of the Apocalypse" debuted, there was no turning back. I was completely absorbed in the world of Mercury Falls and admired the way new elements were constantly being added to keep things fresh. A pleasant change from authors who blow their best material in the first three chapters and then coast to the finish line.
My only real problem with the book is the cover art. First of all, the cover barely has relevance to the story. The two famous cherubs taken from Raphael's master work Sistine Madonna are cute, and there are cherubs in the tale... but they do nothing to communicate the story's main plot (the Apocalypse) or nature of the work (humorous). This is a darn shame, because the story deserves so much more than yet another recycling of artwork that has been so overused as to become generic (and has probably been printed on everything from condoms to toilet paper). Sadly, it's so overused that most people don't even realize that it's not even a painting, but a small piece of a painting...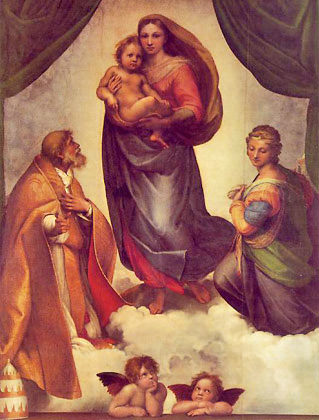 But hey, if you're not being backed by a big publisher that can afford to commission custom artwork, there are certainly worse public domain images you could use, so it's hard to fault the artwork too much (though giving a liner credit to Raphael for his art would have been nice). At least it's beautiful to look at, even if it doesn't really tell potential customers what the story is about.
Sadly, I can't be so forgiving for the cover's letter kerning, which is pretty bad (though not the worst I've seen). Why in the hell people putting book covers together can't take five minutes to adjust letter-spacing so it looks decent is beyond me. Even if it was bad kerning, I'd be okay with it... so long as it was consistent. The "A" and "L" in "FALLS" are jammed together, for example, but "M" and "E" in "MERCURY" (which share similar exterior letterforms) are given breathing room. The spine's lettering is heinously fucked, with a surprise typeface change and such inconsistent kerning that one has to wonder if the designer was trying to spell things out phonetically. Written by "KR--O--ES-E" it says. The more obvious pairs of R-C and R-Y and F-A are just left to fly apart. I know this has nothing to do with the story, but stuff like this drives me insane...

Maybe if I continue to bitch about stuff like this each time I review a book, people will start paying attention so anal retentive designers such as myself can shop at a book store without wanting to bash their heads against a wall.
Ahem...
Cover complaints aside, it would be easy to say that Mercury Falls is a "good first effort" for Rob Kroese... but it would also be inadequate. This would be a great read even if it was his tenth book. I enjoyed the story from start to finish and am happy to recommend it to anybody who enjoys humorous fiction.
Or is bored and looking for something fun to read.
Congratulations, Rob... I am anxiously awaiting your next book!
You can buy a copy in a myriad of formats by following the links at the official Mercury Falls website.

UPDATE: Well lookey what we have here... Mercury Falls was picked up by Amazon's independent publishing arm, AmazonEncore. The cover features 270% better kerning and now has an illustration kinda related to the story!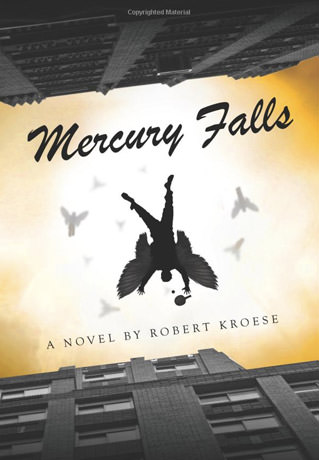 Well played, Mr. Kroese. Well played.