It's Bullet Sunday from sunny Orlando, Florida!
• Jinkies! Hilly's new cat, Jinkies, is really amazing. She's friendly, personable, independent, fun, and a little bit crazy... all the qualities you want in a kitteh. Except when you are trying to blog, in which case you want the exact opposite qualities. No matter what I did or where I moved my laptop, Jinkies made a point of going there to join me...
And ten minutes later...
And fifteen minutes after that...
Even trying to dump her off the keyboard fifteen minutes after that resulted in Jinks hanging on for dear life...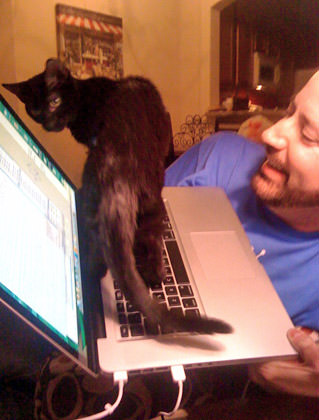 Longest. Time. To. Write. A. Blog. Post. Ever.

• Whore! You know when you're on an airplane? And you know that space against the wall next to the windows? That gap above your arm rest like this...
As I was sitting in my seat after takeoff yesterday, I felt something nudge my arm. Looking down, I saw that the woman behind me HAD PUT HER FEET THROUGH THE GAP AND SET THEM ON MY ARMREST!! What the hell? How big a bitch do you have to be to put your stinky feet on SOMEBODY ELSE'S ARMREST? Seriously? I was scared to even look at what freaky shit the whore might be doing back there, so I decided to take immediate action. My first instinct was to grab my metal brick of a MacBook Pro and smash her fucking feet so hard that I broke every bone inside. But I really don't need any incidents on my TSA Permanent Record, so I decided to use a magazine and gently nudge her feet off my seat instead. And it worked. For about an hour. Then they were back. So I ended up rolling up my jacket and stuffing it in the gap. That worked for about another hour until she weasled her feet under my jacket. Finally I jammed my elbow back there and left it so she couldn't invade my space again. She ended up sticking her feet in her window well above my head instead. Yes, I know... I have terrible luck with travel. But WTF?!?

• Sunset! I also have pretty good luck when I travel. The view out my window at sunset was pretty amazing. And pink...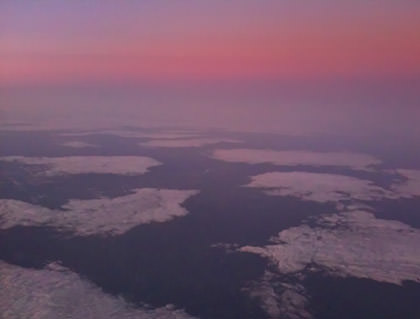 • Nuts! In what seems to be a growing trend amongst airlines, I was served warmed nuts after takeoff. First with Northwest, then with Delta, and now with Alaska Airlines...
At first I thought it was just a novelty, but now I'm kind of used to it. Even worse, the airlines have spoiled me, and now I'm going to have to go buy me a nut-warmer appliance of some kind. Once you've had your nuts warmed, you really don't want to serve them any other way.

• Dive! In other airplane-type news... I was going through my last batch of negative scans when I ran across photos from my very first skydiving adventure. In the first shot, I'm in the plane on the way up and looking like I'm regretting the idea of it all (but am actually just making sure my contact lenses are lubed up). The second is a shot of me on the way down that my friend took. I haven't jumped out of a plane in over a decade now, and am kind of missing it...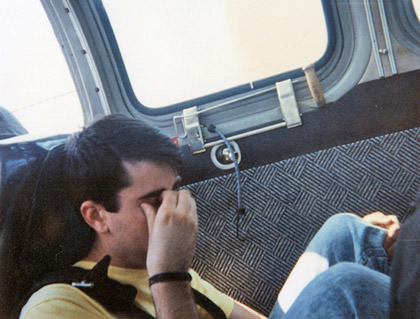 Yep, jumping out of a plane sounds pretty good! ESPECIALLY WHEN SOME BITCH IS STICKING HER SKANKY FEET ON MY ARMREST!!

• Twittered! I'm really liking Tweetie 2.0 for iPhone, and one of my favorite features is the "Near Me" view where you can see Twitterers in your area on a map...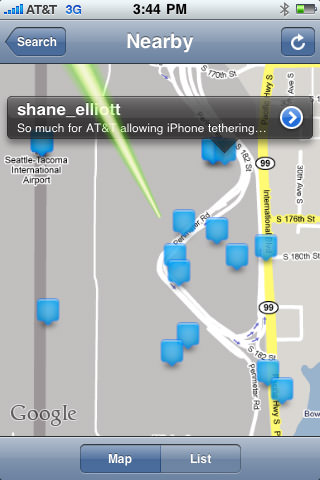 Pretty slick! At the airport it's particularly cool because you can listen to OTHER people bitch about THEIR travel problems!
And now it's time to kick back and watch some television. Tomorrow is a big day...