I'm in a little bit of a snarky mood tonight.
And that's making it tough to blog, because saying what's actually on my mind would bring me nothing but trouble. Especially since I ran across some reeeeeaally juicy information about a total asshole who has been badmouthing me to cover his own ass. So now I'm in the unique position of being able to humiliate somebody who totally deserves it, all while eliminating a thorn in my side at the same time. But, alas, I'm just not evil enough to press the button. Sure I like to try evil on occasion... but I don't think I'm ready to turn pro and go full-time...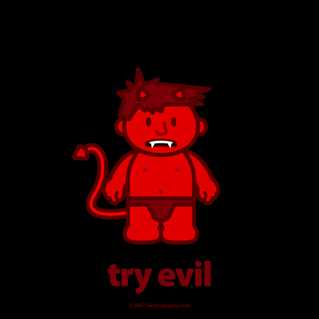 So I hold my peace.
Resist temptation.
Take the high road.
Be the bigger man.
The better person.
The nice guy.
And try not to regret that I'm not more evil. Because how will I ever conquer the planet if I can't crush my enemies?
Oh well.
In other news... there's an interesting observation over at Ain't It Cool News...
CW darling "Gossip Girl" pulled 2.1 million total viewers last night, while the final season of the CW's "Veronica Mars" averaged 2.5 million viewers three seasons back.
So The CW cancels Veronica Mars, one of the best shows ever to air on television, and is now doing worse in the ratings with their hottest new show. Well, good. It couldn't happen to a nicer network.
Oooh. I'm more than just a little snarky tonight!