My air conditioner came with a remote control. That's pretty sweet, because you don't have to get up to turn it off and on. You can stay safely on the couch and not have to risk getting eaten by a Carpet Shark or accidentally getting any exercise.
The problem is that the air conditioner makes an ear-splitting BEEP (shriek?!?) every time you turn it off or on. It has to be about the stupidest thing ever. I mean, it would be different if the air conditioner was totally silent and you couldn't hear when it was on... BUT IT'S AN AIR-CONDITIONER!!! Short of a smoke alarm, it's about the loudest damn appliance you can buy. Until now. It's as if the manufacturer said "I'm tired of smoke alarms stealing our thunder as loudest appliance ever... we can do better!" And they have! I swear that asinine shriek is louder than the test button on any smoke alarm.
And I just don't get it. Having a loud BEEP go off every time you mess with an air conditioner is about as senseless as trying to find intelligence in an Ann Coulter book. Yet here we are, with me living in fear that turning on the air conditioner will result in the neighbors calling the fire department.
A fire department which would probably be happy to allow my home go up in flames once they found out I'm not a Harry Potter fan.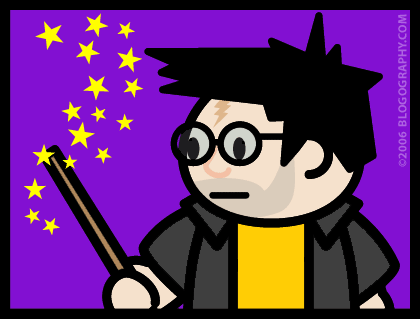 Every time a new Harry Potter movie comes out, it's always the same. A never-ending stream of "Have you seen Harry Potter yet?!?"
I've already written about my social inadequacies from not being a Harry Potter fan, but now the fervor has reached all new heights. There are no more Harry Potter books in the pipeline, so new films are all that's left for people to obsess over. This has resulted in an unprecedented level of disdain from Potter-Heads every time I have to explain that I don't like Harry Potter and have no desire to see any of the movies. The shock, disbelief, disgust, and sheer terror that's unloaded on me has never been more blatant.
I'm still waiting for a Harry Potter edition of CliffsNotes so I can at least pretend to fit into society again.