My original plan after having finished work in Savannah was to make my pilgrimage to Hard Rock Park in Myrtle Beach, SC... the theme park that's licensed out by the Hard Rock Cafe. In my quest to visit all things Hard Rock, it's a glaring absence on my list. But the theme park had been having money problems, and ultimately ended up in bankruptcy with a promise to re-open in Spring of 2009. But instead it was sold to somebody else. And since it was no longer a Hard Rock Park, there was no reason for me to visit.
So what to do with my two trade-out days? It has to be something quick and close-by.
Why not visit Hilly-Sue and see her new house in Orlando?
So here I am.
Hanging out with Hilly and visiting some of the cheesy attractions I haven't been to before on previous trips...
When you visit this attraction, you have two choices... you can either be accompanied by guides in period costumes who will tell "their" stories of being on the Titanic. Or you can go it alone on a self-guided tour. We decided to go self-guided, just in case the place sucked, so we wouldn't be trapped for an hour on a tour.
And thank heavens we did, because the "Titanic Experience" is pretty lame. We spent most of our time trying to escape, but they lock you in...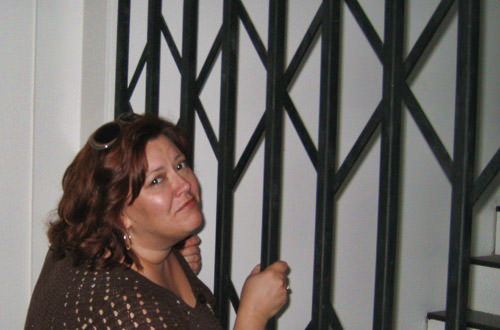 As we were entering the museum, I made some smart-assed comment to the ticket guy about going to see Jack and Rose (from the Titanic movie) to which he replied "THEY DIDN'T EXIST!!" I found this funny, because at every turn of the attraction they tried to squeeze in all the scenes where Jack and Rose were at in the movie...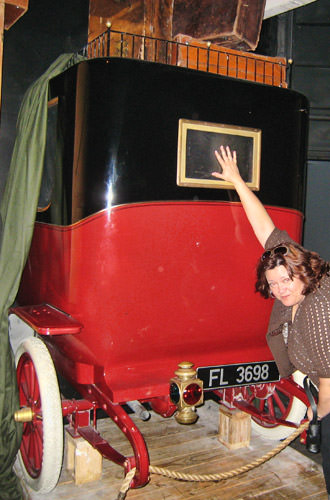 I expected the "Captain's Bridge" to have some cool effects... like giant computer screens outside the windows so you could pretend you were steering the ship or something. But no... it's just a wheel bolted to the floor of a small room, so it's like steering a ship at midnight with sunglasses on...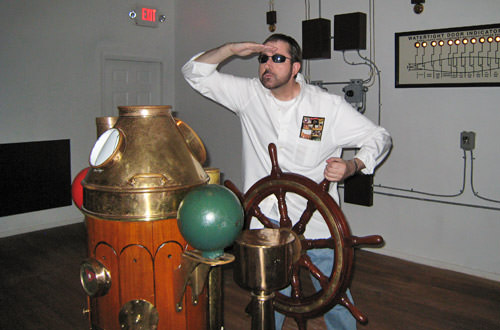 Since this was the Titanic "Experience," you'd think that you'd get to "experience" stuff. But you really don't... it's more like a museum than an attraction... though they do have a room with a small cut-out of an iceberg that has ice glued on the front so you can "experience" what an iceberg is like. Hilly says it's cold...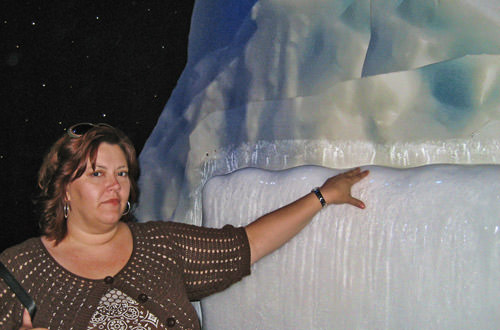 That look on her face pretty much sums up our "Titanic Experience."
RIPLEY'S BELIEVE IT OR NOT MUSEUM
After our disappointment at "The Titanic," we went to the Universal CityWalk to have a few drinks. Since it was a little to early to be falling into the gutters of Orlando just yet, we then took Miss Britt's advice and went to the Ripley's Believe It or Not Museum...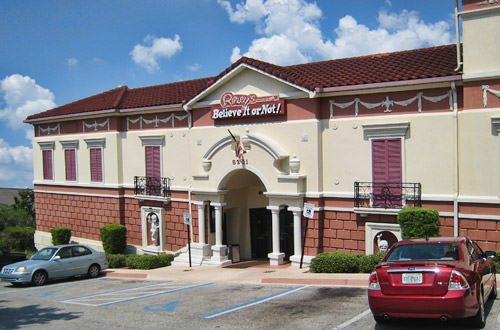 And, while it was a heck of a lot more interesting that TITANIC: THE EXPERIENCE, it was still pretty tame. Probably because I had already been to the one in San Francisco. My favorite piece was the "Vampire Killing Kit," which I was hoping they sold in the gift shop. But alas, they did not...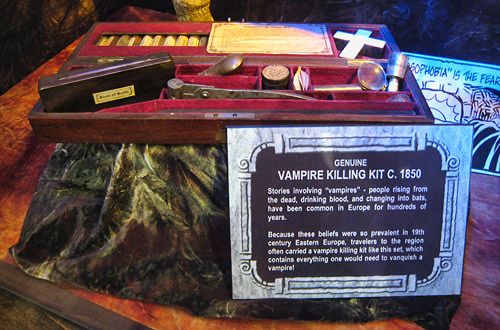 As most everybody already knows, I love pirates. So when Hilly reminded me about the Pirate's Dinner Adventure here, we simply had to go. Sure these things are usually cheesy and crappy and the food is bad... but it's pirates, dammit! The building didn't open until 6:00 for the 7:30 show, so we decided to have lots of drinks at the TGI Friday's next door. That way, we could drunkenly stumble across the parking lot and enjoy the show...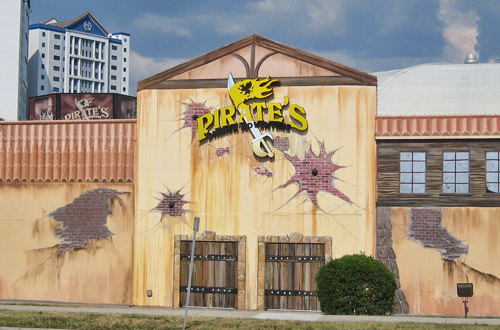 Now, when it comes to interactive dinner shows... you only get out of it what you put into it. So you can either buy into the experience by putting on your paper pirate hat and cheering on your team... or you can sit back and make snarky comments about how cheesy everything is. We did both...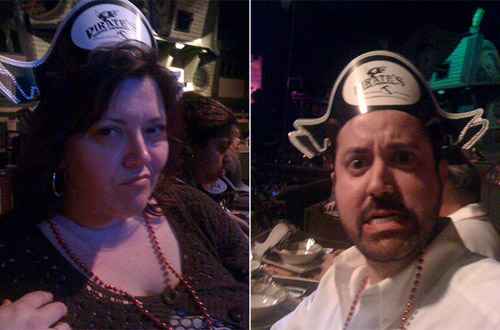 And had a really good time!
The show was fun and well-done, and our table was totally into everything...
Yes, some of it was kind of lame... like when Captain Sebastian The Black told Green Pirate Jose that he could have the Gypsy Wench and do whatever he wanted with her. And what did Green Pirate Jose want to do? Why, take her to the top of the mast so they could hang from ropes and spin around! It was actually amazing acrobatics that were cool to watch... but not very pirate-like at all...
The story itself is fairly predictable, and you see what's going to happen from miles away... but they do try to get in some cool sword fights and other piratey goodness...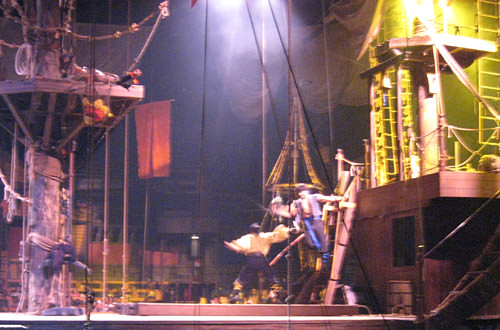 Since this is a dinner show, you also get served food. I was expecting the worst... but was pleasantly surprised at how good our meals were. Hilly-Sue had the chicken, which she said was really good. I requested a vegetarian meal and was served a nice cheese lasagna with vegetables. For dessert you get a yummy peach cobbler with ice cream. Not bad at all.
Overall, this is one of the best dinner shows I've ever been to. But there are places for improvement...
We paid for an "upgrade" which got us close to the stage where the action was at. But the food service was a downgrade. People in the back rows were always served first, which is backwards from how it should have been. My food, while good, could have been hotter... but people who didn't pay extra got theirs first and piping hot. WTF?!?
The drinks were weak. We bought the special "Rum Punch" for $3.50, but could barely taste any alcohol. Rip-off.
You have to pay for everything with cash as you get it. You can't run a tab and pay at the end of the night. But, worst of all... gratuity is NOT included! They ask that you tip $5 per person to your server! This is just lame, because it's not like the server ever has the opportunity to do anything special... they just bring out stuff as it's available. For a show like this, the cost should really be all-inclusive.
The show is too long. They really need to cut out about 15 minutes of the more repetitive stuff, because it does get tiring after a while. Especially if you've brought kids, which a lot of people did.
And that was our day. Who knows what tomorrow will bring?