It's a full-blown epidemic edition of Bullet Sunday!
• Mapping. Ooh! I almost forgot that I've got another state checked off my Travel Map! Now there's only North Dakota, South Dakota, Nebraska, Kansas, and Oklahoma left to go. One of these years I'm going to have to just bite the bullet, fly into Fargo, get a one-way car rental, drive down to Tulsa, then fly home. Allowing for a one-day detour to Mount Rushmore, I could do it in three or four days. One more thing to add to my list.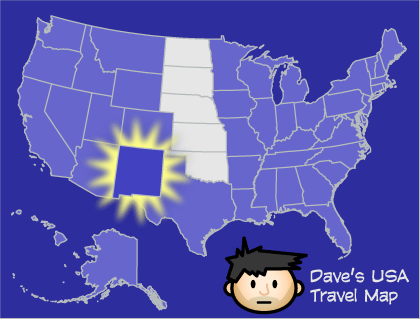 • Jacked. The annual Apple Blossom Festival came to town this weekend. And, while I gave up on celebrating the event a long time ago, there's still one Apple Blossom tradition I feel compelled to embrace... CRACKER JACKS!!!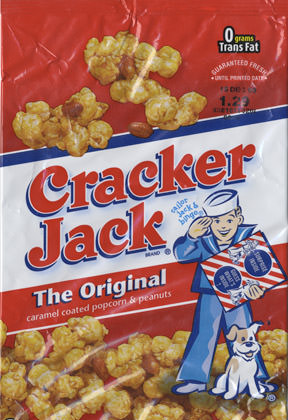 But something has gone terribly wrong. Right on the front of the bag, it asks you to guess what the surprise might be inside. When I was younger and Cracker Jack had awesome prizes, I might have had a shot at this. Maybe it would be a little plastic truck. Or a magnifying glass. Or even a book of sweet ink tattoos. But TODAY? All the prizes they give out are shit...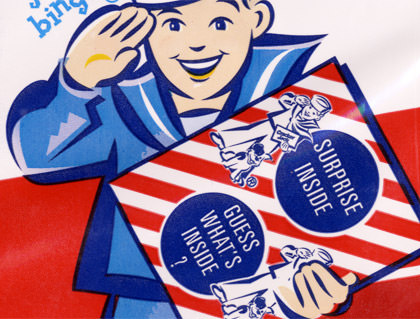 Now, please tell me how the fuck could I have ever guessed a "pencil topper" that's nothing but a piece of slotted paper with a crappy drawing of cartoon bees on it? NOTE TO CRACKER JACK COMPANY: A PENCIL TOPPER WOULD GO ON TOP OF THE PENCIL. THIS IS A FUCKING PENCIL SLIDER. Or whatever...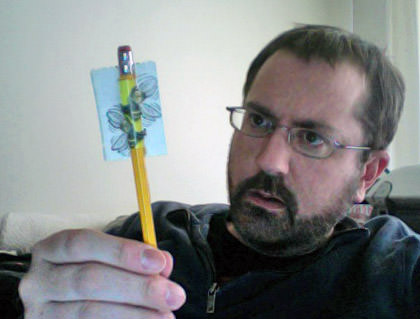 • Chuks. My post from Thursday was half-way understood by half the people commenting on it. While it's probably a mistake to try and explain what goes on in my head, I'll give it a shot...
In the cinematic masterpiece, Dune (directed by über-genius David Lynch), there's a big battle at the end where the oppressed Fremen warriors rise up against the Galactic Emperor by riding giant worms into a sneak attack...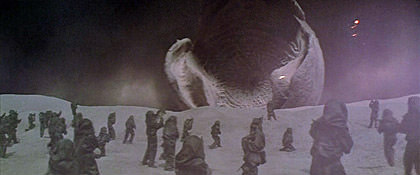 In addition to mowing down soldiers with their giant worms, the Fremen also have a sound-activated guns called a "weirding modules." When they scream certain sounds, the guns shoot out a pretty blast of light that blows shit up...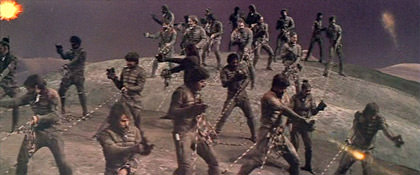 When I saw the film in the theater waaaayyy back in 1984, it was at our shitty local cinema which has horrible sound. Every time the Fremen screamed into their weirding module, I could have sworn that they were saying "INYUK CHUK!" Starting with Rachel, the replicant from Bladerunner...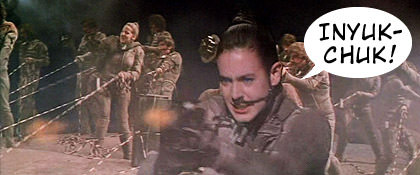 And Captain Jean Luc Picard from Star Trek: The Next Generation...
And, of course, the Cosmic Messiah of the Dune Universe Himself, Muad Dib...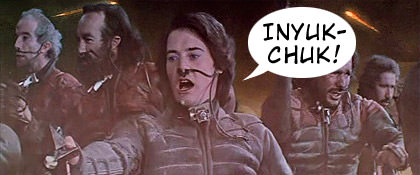 Now, as everybody knows, "INYUK CHUK" is the phrase that Apache Chief on the Super Friends uses to grown into a big man and battle crime. Since Muad Dib has super powers, I kept expecting him to grow into a giant and start kicking some ass...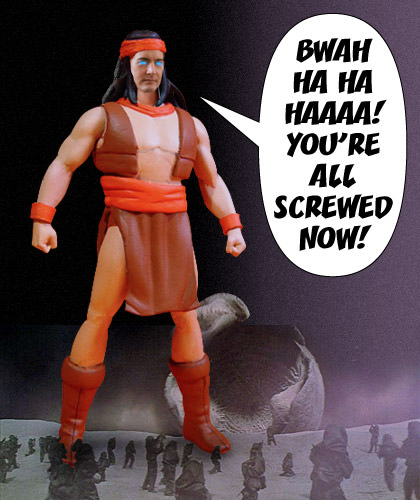 Super-sweet Apache Chief custom action figure by Iron Cow.
How frackin' awesome would THAT have been?
• Yikes. Speaking of Dune, isn't Alia the freakiest character ever to appear in in a movie?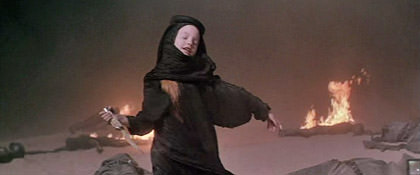 • Humor. There's a lot of reason to love Star Wars (well, the originals, not the shitty prequels). And one of my favorites is how LucasFilm has no problem poking fun at the franchise. Not only by allowing others to take a shot at Star Wars parody (like the recent brilliance by Family Guy and Robot Chicken)... but the wonderful way they make fun of themselves. If you're a fan, StarWars.com has some beautiful posters for Disney's "Star Wars Weekends" on display. Here's two, but there are many more that are well worth checking out...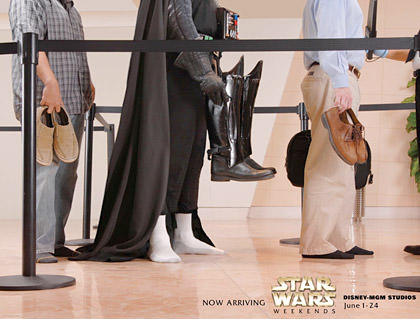 And now it's time for dinner. I'll be having rice tacos tonight. RICE TACOS WITH CHEESE!