Since Bullet Sunday was my TequilaCon recap, I saved what I actually did for today. So just pretend it's Sunday and everything will make sense. Or not. Does anything ever really make sense on this blog?
Most everybody went home on Sunday, whereas Vahid and I decided to stick around an extra day. We hitched a ride from Brandon into Albuquerque, where it was assumed that we'd find lots of cool stuff to do. It is, after all, the biggest city in the great state of New Mexico. Never mind that the two things we most wanted to see (Petroglyph National Monument and Sandia Peak Tramway) were out of reach, we were convinced we'd find other awesome stuff to do instead.
And boy did we ever!
Our first stop, was the $8 admission National Museum of Nuclear Science & History. This is actually the "new" version of this museum, having just opened recently in a new location with a brand new building...
As a disclaimer, I should preface my critique of the NMONSAH by saying that I have been involved in designing museum displays in the past. It is not an easy task, but it can be a fun and challenging one... so long as you remember the three rules of how exhibit-oriented theme museums work:
The museum should tell a story that has a beginning, middle, and end, and lead the visitor through the story in a straight-forward manner... yet not trap them into areas they might want to bypass.
The museum should offer two levels of depth (fast/superficial and slow/deep) for two different audiences (adults and kids).
The museum should explain the subject matter in an entertaining way.
Unfortunately, The National Museum of Nuclear Science & History fails at all three, despite having such a killer concept and a vast wealth of material to draw from. To be fair, they are probably still working on stuff since the museum is so new, but there are fundamental flaws in the current approach that aren't going to be fixed without a major overhaul.
To start out with, the layout is awful. Not only does it not lead the visitor through the story, it's so badly planned that it's easy to miss stuff, and you have to wander back through areas you've already been in order to see everything. There's no "quick facts" tract for the rushed visitor, no in-depth tract for the intensive visitor... just a mash of "stuff" all jumbled together with no context and little explanation. And while there's toys to play with that are supposed to explain nuclear energy, there's no actual diagrams or displays to tell you what's going on. This is fatal, because every exhibit in the entire museum relies on understanding nuclear energy! Oh well. We tried to have fun anyway...
One of the exhibits was an old uranium mining car. Heaven only knows how much residual radiation had soaked into the metal after all those years, but we took no chances...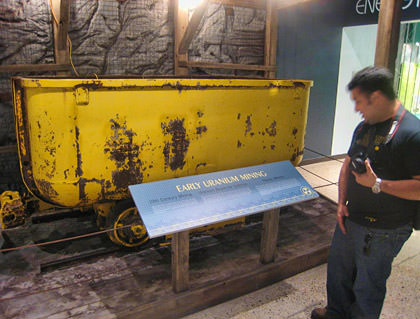 There's a kind of outdoor plane and missile park, but it's still under construction. Hopefully at some point they will have signs telling you what everything means, because right now it's just a bunch of stuff...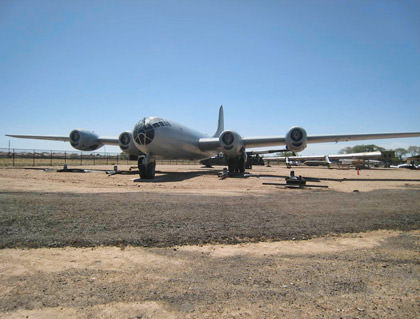 They had reconstructions of Fat Man and Little Boy, though the yellow color on Fat Man didn't seem entirely accurate when compared to archived photos...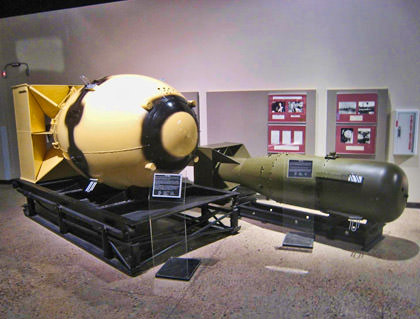 Everything else was just a random collection of stuff that somehow tied to nuclear energy, like this Geiger Counter...
After the Nuclear Museum, we hopped a $1 bus back to Old Town so we could visit the American International Rattlesnake Museum. It's a tiny $3.50 admission museum, but it gets everything right. There's plenty of cool snakes to look at. There's lots of information for both kids and adults. They even have films explaining how snakes and turtles evolved. On top of all that, they try their best to educate visitors as to the benefits that snakes have for the environment. Two thumbs way up!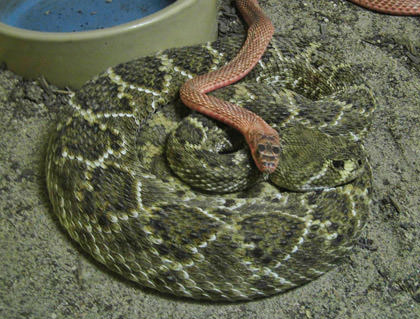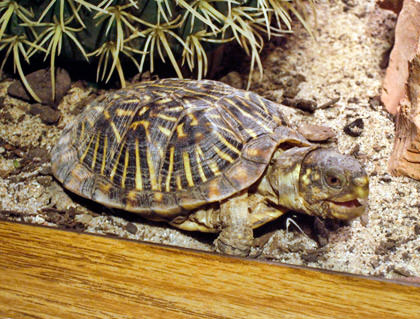 Since most everything in Albuquerque appears to close on Sunday, there wasn't much else to do but wander around. The plaza for Old Town is pretty nice though...
All that was left for us was dinner at Fuddruckers and a wake-up. Our TequilaCon adventure had come to an end.