And so here I am in my favorite city on earth... Edinburgh, Scotland. Not the nicest of days to be in "The Athens of the North," because it's overcast and cold, but it's hard to complain when I'm so happy to be here.
Originally, I was to be in Edinburgh on Sunday for the meet-up, but people pointed out that this was Mother's Day in the UK so I changed it in hopes that more people could make it (far be it for me to come between somebody and their mum!). Unfortunately, weeknights are really difficult for meet-ups because everybody has to worry about work in the morning, so the head-count dwindled from five to four to three to two. Not that the number of people really matters... I'm happy to meet up with anybody I can when I travel, and was very lucky that Andy from Sharing Experiences could make it (if you're a traveler... or even if you just like to read excellent travel stories... his blog is well worth checking out, and I was even interviewed by Andy here).
We met at Bobby's Bar, named in honor of Greyfriars Bobby, a dedicated doggie who spent fourteen years guarding the grave of his deceased master (he reminds me of Hachiko, a dog who met his master at the train station every day in Tokyo, and continued to turn up each day... even after his master had died).
Since Andy is a fellow frequent-traveler, it was great to compare notes and trade travel stories (Sharing Experiences in person, as it were!), so Davenburgh was a total success...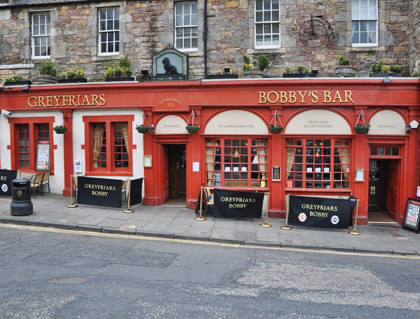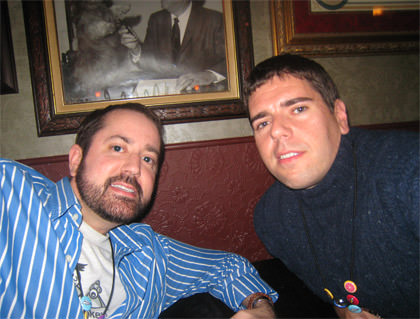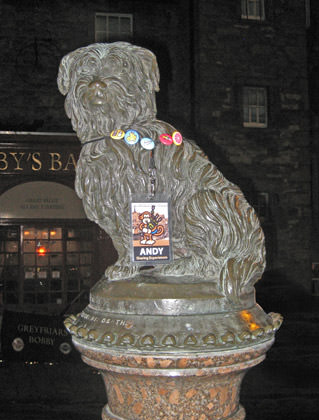 Tomorrow is supposed to be a much nicer day, so my fingers are crossed as I head off to bed.