Ever since I got over being sick, I've spent every waking minute getting caught up on work. Because of that, I don't have much for Bullet Sunday except some stuff I saw while I was confined to bed this past week...
• Guy. Just when you think that The Family Guy isn't very funny anymore, they have Peter's obscenely wealthy father-in-law invite Bill Gates to a party...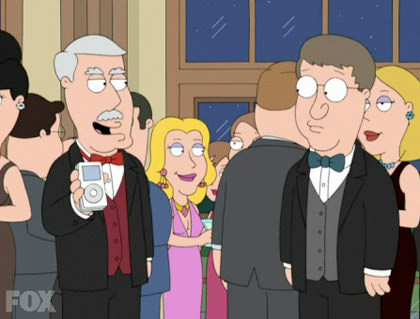 "Hey Bill, would you help me program my Zune? Oh... wait... I have an iPod, LIKE THE REST OF THE WORLD!"
BWAH HA HA HAAAA! It's so funny because it's true!
• Mode. In preparation for the imminent release of Depeche Mode's new album Sounds of the Universe on April 21st, I've been watching all the production videos posted at their website. In one of them, I was pleasantly surprised to see a NO ON PROP 8 sign in the background...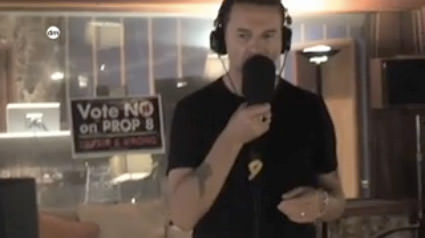 I guess when Depeche Mode sings "People Are People" it's more than just words in a song to them...
So we're different colours and were different creeds,
And different people have different needs.
It's obvious you hate me though I've done nothing wrong,
I've never even met you so what could I have done?
I can't understand what makes a man hate another man,
Help me understand.
People are people so why should it be,
You and I should get along so awfully?
• Mode2. In other DM news, the disturbing video for the first single, Wrong, has been released. Since MTV doesn't play music videos anymore, here it is...
• Shop. As if it wasn't enough that Depeche Mode has a new album coming out, The Pet Shop Boys are also releasing a new album, Yes, on March 23rd. A very cool video for their first single, Love, Etc., has also been released...
And, in case you missed their awesome appearance at The Brit Awards with a guest appearance by Brandon Flowers from The Killers, here's that as well...
I have no idea what Chris was thinking with that stupid pink wig, but the performance was brilliant.
• Dollies. Three episodes in, and I am still not much of a fan of Joss Whedon's Dollhouse. It's surprisingly boring. About the only thing that will have me tuning in again next week is the final 15 seconds of the show, which was kind of a WTF? moment. Everything else? Boring. Or infuriating. Mostly because there's one character on the show who drives me bat-shit insane... the tech guy "Topher"...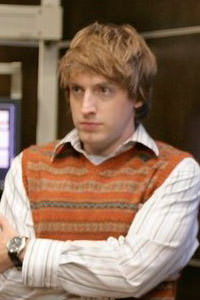 I think what Joss was going for was a character like "Xander" from Buffy The Vampire Slayer. He was kind of geeky-nerdy, but in an entertaining and lovable way that complimented the rest of the cast. Overall a great addition to the show...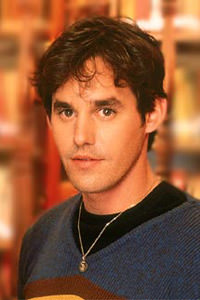 But instead what we got was a retread of "Marshall" from Alias. A "genius" who somehow manages to be a complete fucking dumbass at the same time. He acts stupid. He talks stupid. He's a whiny annoyance whose only benefit on the show is to give you somebody to want dead...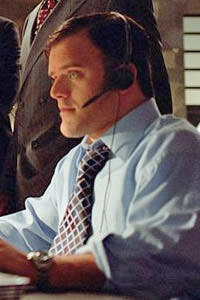 As if that tired cliche wasn't bad enough, Whedon recycled Agent Fox Mulder from the X-Files to create Agent Paul Ballard. In order to make the character sympathetic to the audience, Ballard is a brilliant lone wolf whose obsession with the Dollhouse makes him an object of ridicule by other FBI agents. But here's the problem... the audience already knows Ballard is right and the Dollhouse exists, so the humiliation of the character is pointless. It doesn't make the character any more sympathetic, it makes the FBI out to be an agency of total morons. Ballard is obviously very good at his job, so where are the agents saying "Hey, Paul, any luck tracking down this Dollhouse thing? Anything I can do to help?" Too logical, I guess. In interviews, Tahmoh Penikett says it takes 5 or 6 episodes for the show to find its footing... I hope the show isn't cancelled before then. Because with Alan Tudyk (Wash!) set to play the rogue Dollhouse killer "Alpha," better days seem to be just around the corner. At least I hope so, because Dollhouse is sucking ass so far.
And now... I'm off to finish up re-reading Watchmen for the hundredth time. Because, weather permitting, I'll be seeing the movie this Friday and I want to make sure I have the source material fresh in my head.