I have been having serious digestive problems since returning from Europe. Everything I eat seems to make me sick. I'm hoping this problem sorts itself out soon, because it's making it really tough to get through my work day.
Speaking of work, today is rather jam-packed, so I've decided to sponge off the "Ten Honest Things About You" meme that's been going around. Because if Iron Fist can be convinced to do it, what chance do I have of resisting? I mean, seriously, the guy doesn't have an "About Me" page, and his "Contact Me" page is permanently under construction... getting him to reveal anything online is paramount to a miracle!
Away we go...
I have to really struggle to remember anything from high school, and rarely think about my time there. It's not that I hated it or didn't have friends or anything... it's just that it's not particularly memorable in any way. This year will be my 25 Year High School Reunion, and I just don't care. I haven't attended any previous reunions because I was traveling, I probably won't attend this one either.
I am deeply disturbed that I know who Spencer Pratt and Heidi Montag are despite never having watched a single episode of The Hills. Talentless douchebags who become rich and famous for being talentless douchebags make me want to beat the shit out of the people responsible for injecting them into the social consciousness. There is no reason for me to know who these dumbfucks are, and yet I do. Surely that storage space in my brain could be put to better use.
I am too easily irritated by stupidity. Idiotic things morons do which most people would ignore tend to set me on edge. Particularly while driving.
Even though I try hard to cherish all life, there are too many times I catch myself wishing somebody dead for the betterment of all humanity. Or just me. Either way, wishing people dead is something that goes against my beliefs, so this is a continuous source of conflict in my head.
I am ready to die. It's not that I want to die or am looking forward to dying, it's just that I'm ready when my time comes. I try to make my friends and family understand this... partly because I do not want to be kept alive on life support machines or in a coma or anything... but mostly because I don't want anybody feeling bad about me being dead.
My favorite sandwich is cheddar cheese and potato chips with mayo. It bothers me greatly that I can't recall when, where, or how I came up with the concept of putting potato chips on a cheese sandwich. It seems I've always been doing it.
I have absolutely no faith in politicians and political leaders. In fact, due to being constantly and consistently disappointed my entire life, I've been conditioned to loathe them. All of them.
Whenever somebody tells me I have an interesting life, it's cringe-inducing. Yes, I get to go to a lot of interesting places and have done a lot of interesting things, but I don't think that means I myself am interesting... my surroundings merely makes it appear that way from time to time.
Nothing really angers me long-term. Sure I care about stuff and can become upset over a situation, but it's all so very temporary. A lot of times I have to work myself up to feeling angry about something that's in the past. Not because I really feel that way, but because I sense people expect me to feel that way when it comes up.
The most honest and revealing thing I've ever written on my blog is this: "I've thought I was in love three times. I have actually been in love just once." And this: "My first love ended very, very badly when it turned out she was a psychotic bitch. Since I would rather be alone the rest of my life that go through that kind of pain again, I am much more cautious now (which is probably why love hasn't found me again)." Both were listed on my "100 Things" page, and explain more about who I am now than I care to admit.
Time for another swig of Pepto Bismol...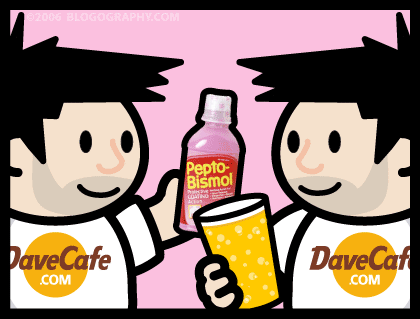 If that can't cure me... what can?