The wonderful world of over-the-counter medication is a magical place.
As you might have guessed from my past week of blogging, I'm a total baby when it comes to being sick, so I tend to spend a lot of my time inventing new and creative ways of using over-the-counter medication to make my life suck less when I get ill. Mostly by mixing and matching various drugs until I find a happy combination that puts me in a mental state where I don't mind so much that my nose is leaking all over the place.
Finding the right mix of pills is a daunting task. Screw up too much, and you get to take a trip to the hospital. Don't screw up enough, and you end up aware that you're sick.
Most of my time is spent negotiating with medicine packaging as to the proper dosage because, well, you just know that they're low-balling it...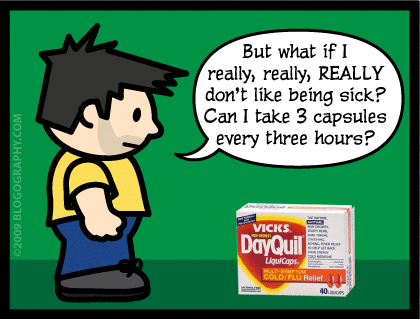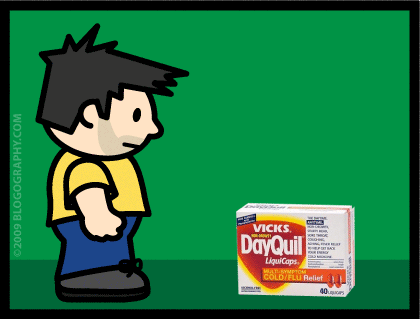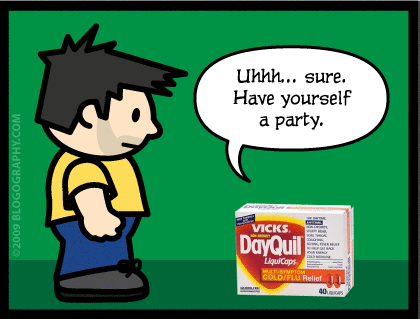 The rest of my time is spent figuring out which pills go good together, and which pills will have a battle-to-the-death in your stomach. Initially, I figured things out by trial-and-error. Eventually I figured out that it's actually the COLOR of the pills that determines how your body will react. Red pills, for example, seem to go good with any other color. Green pills should never be mixed with pink pills. Blue pills should only be mixed with yellow pills if you want to end up psychotic for a few hours. White pills are just fooling themselves.
Right now I will be taking two giant blue pills, two circle red pills, two small blue pills, and one green pill, followed by a handful of M&M's candies in assorted colors. I'm hoping at least one of those will help me get some sleep tonight.