At long last... Bullet Sunday at home. Imagine that!
&bull Dolly. Okay, I just have to get this out of the way... if the first issue of Joss Whedon's new series is any indication as to what we're in for... Dollhouse is going to suck total ass. This pains me greatly, because I have been looking forward to a new Whedon series forever. After Buffy the Vampire Slayer, Angel, and the amazing Firefly, he teased us with Dr. Horrible's Sing-Along Blog, which was sheer genius. It was as if he could not fail. But then along comes Dollhouse, which has to be one of the most boring hours of television I've ever suffered through. Eliza Dushku stars as lead "doll" Echo who had her mind wiped so she could be programmed with different personalities and training, which she then uses to undertake missions for a mysterious company. Now the premise... a hot girl who can become anybody to do a job... had definite possibilities. The reality? Boring. Boring. Boring. The most exciting action in the entire episode was when Dushku's character had an asthma attack. What the hell? I was wishing I had a Dollhouse mind-wipe half-way through the show. Things had better improve a lot in the next installment. Eliza is hot, but not hot enough to keep me watching a shitty, boring TV show...
• Snowy. It's been snowing all day. I am really, really tired of snow.
• Poopy. While I was in Mallorca, I saw this confusing sign...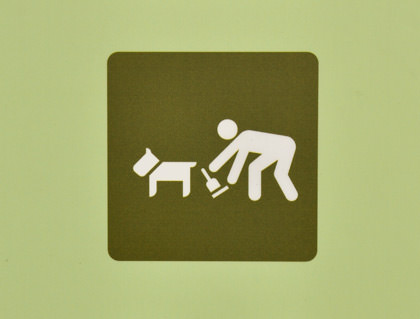 I can't decide if he's waiting for something to come OUT of the dog so he can clean it up... or if he's going to put something UP the dog. Like a bottle of Goldschläger...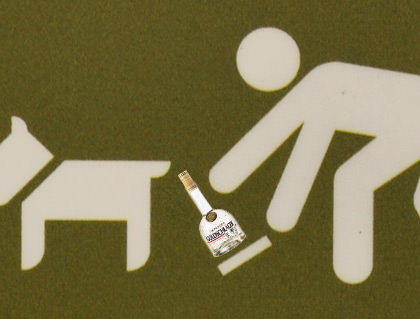 Poor doggie. That's just wrong.
• Snowy. It's been snowing all day. Have I mentioned that I am really, really tired of snow?
Now, for some inexplicable reason, I'm really tired (that almost never happens!) so I think I'll turn in early for bed.