This morning I woke up to a fresh 9-inches of snow that magically appeared overnight.
Needless to say, I was not thrilled. I had to wait over an hour for the snowplow people to come dig me out so I could get to work. Not a good way to start the week.
In other news... OMFG!! TOMORROW IS THE MACWORLD KEYNOTE!!! I'm totally excited, even though his Royal Steveness won't be the one delivering it. Even worse, Apple has decided that this is the last year they'll be participating at MacWorld, which is a sad passing of a long-time tradition.
It may be my last shot, but I'm still crossing my fingers for iToast to be announced!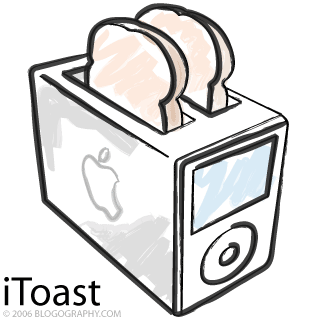 But I'd also settle for a $1000 price cut on the MacBook Pro.
Or maybe something new, like a MacTablet.
But mostly an iToast.