My blog is up and running again... just in time for Bullet Sunday!
• Interviewed. I've been interviewed by the new travel blog Sharing Experiences, run by travel writer Andy Hayes. There's kind of an important announcement I make there (especially if you're in the U.K.) so be sure to take a look!
• Better. I don't like 95% of the commercials that show up on television because they are annoying rather than entertaining in the way they sell their wares. A rare exception would be the absolutely brilliant and inspirational ads run by the Foundation for a Better Life. They're magic. This one is a particular favorite, despite the fact that it has bad parents in it who don't know how to watch their kid...
UPDATE! In what I can only describe as one of the stupidest fucking things I've ever seen on the internets, The Foundation for a Better Life no longer allows sharing of their videos. That's right... an organization dedicated to "PASSING IT ON" when it comes to inspirational messages DOESN'T ALLOW YOU TO ACTUALLY PASS IT ON! They develop commercials and pay millions to buy ad space on television, but bypass totally free distribution on the internet? Insane. Truly crazy. Oh well... since the video below won't work any more, you have to go to their website to watch it.
How much better would our world be if this is the way it worked all the time?
• Changed. Why is it that every time somebody changes their product, it turns out to be for the worse? Miracle Whip used to be a favorite sandwich condiment... until the dumbasses at Kraft switched from an oil base to a water base to save money. Now it soaks into bread too fast and falls apart in macaroni salad, which just blows. And don't get me started on the way that Kraft destroyed Boca Burgers when they bought out the company. Boca Burgers used to be my favorite food, now I can barely eat them because they are gag-inducing soggy, waggy, snotty, and shitty. Another tragedy was when General Mills "new and improved" my favorite childhood cereal, Cocoa Puffs. They used to be these deliciously puffy and lightly chocolatey crispy balls... but now they're dense, hard, and so chocolatey that they taste artificial, plastic and crappy. Recently I saw that they had a new cereal called "Cocoa Puffs Combos" and thought I'd give them a try. Imagine my shock when I found out that the Combos HAVE THE ORIGINAL COCOA PUFFS IN THEM! Finally, I can be Cuckoo for Cocoa Puffs again!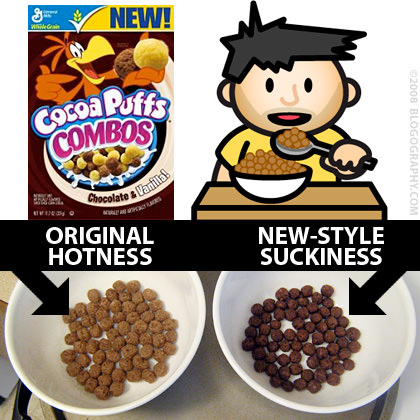 • Remade. I've written repeatedly about my love for the best show every to air on television, Cupid starring Jeremy Piven and Paula Marshal. This morning I learned that the remake, which I'm assuming will be total shit, is going to begin airing on March 24th. What kind of fucked-up birthday present is that? Couldn't they at least released the real Cupid on DVD so I have something good to watch while Rob Thomas destroys his own show? Oh well, guess it's time to re-watch my Veronica Mars DVDs for the millionth time.
• Cupidity. One last rant before I go... even if Sony/Tri-Star doesn't want to go to the expense of producing the original Cupid episodes on DVD... why in the hell don't they put the episodes on the iTunes Store? The only expense is digitizing the show, which can't be much of a road block, after that it's all money in the bank. GAH! Stupid.
Now I'm cold and hungry and don't feel like blogging anymore.