Today Hilly-Sue drove down from The O.C. to hang out with me in San Diego.
With nothing better to do until Suzy-Jane got off work, we decided to go to SeaWorld. I used to go quite regularly when I was flying down to San Diego to visit with family in the early 90's, but hadn't been back since. On the way up, she went through Ocean Beach so we could drive through the neighborhood I grew up in. I'd been through a few times before, but this time my dad had given me an address so I could scope out the right place. I was very young at the time I was living there, so I only really remember it from photos, but it's an interesting visit never-the-less.
Then it was time for SeaWorld...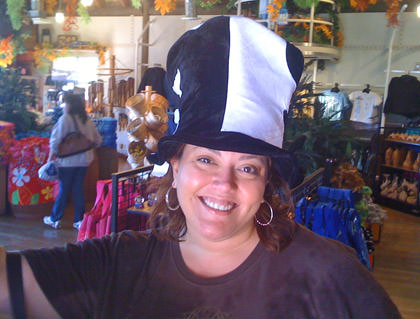 Overall, SeaWorld kind of sucked. Hilly-Sue and I can have a blast anywhere, so we were able to entertain ourselves despite it all, but still... lame. Not at all worth $65, especially considering that two of the three rides there were closed (Journey to Atlantis, and Sky Tower), and the Sky-Buckets cost $3.00 extra.
The worst place in the park was "Sea Turtle Cove" which was a way-too-small tank where they had stuffed in way too many turtles. Those poor things who weren't sleeping were slapping the windows with their flippers trying to get out. It was about the saddest thing you can imagine, and kind of ruined the rest of the day for us.
But we tried our best to have fun and, if you can get over the fact that these animals really don't have enough space to roam like they should, there are some interesting things to see...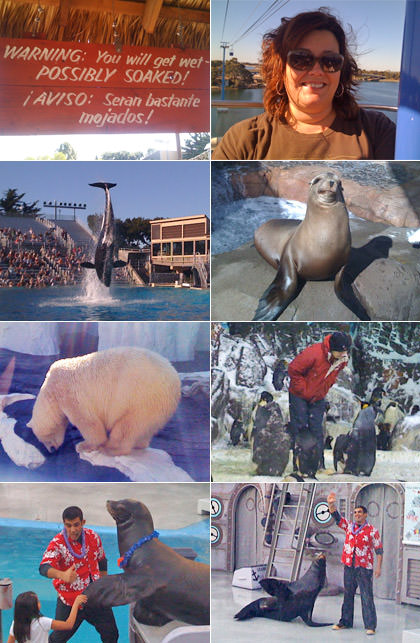 After spending entirely too much money for some mediocre food, we headed to the only real "ride" that was open... The Shipwreck Rapids. They warn you repeatedly that you're going to get soaked, but we decided it was worth it to have some fun, so off we went. But it wasn't much fun, it was just plain boring compared to Disney's Kali River Rapids or Grizzly River Rapids. All you get is drenched to the bone with no thrills or fun-time payoff. I spent the entire rest of the day walking in soaking-wet sneakers for nothing.
We decided to ride the sky buckets despite my fear of heights, and Hilly's fear of thin wires snapping and plunging us to our death. It was actually kind of nice, but paying $3 each after having already forked over $65 each for admission was lame.
We stood in line for the "helicopter moving theater thingy" at the Arctic Pavilion, but the line was NOT supervised, so an entire tour group jumped in line ahead of us. When we got up to the entrance, they told us we had to wait for the next group, even though we arrived well before those who went inside. Explaining this to the people running the place did nothing. Fuck you very much SeaWorld! We were going to be late for Shamu, so we had to bail on the helicopter thing all together. By this point, we gave up all hope of getting our money's worth out of the $65 we paid.
Instead we were off to see seals and manatees. Both are cool creatures, and you could even buy fish to feed the seals, but they just don't have enough room to roam and play, which is sad.
Ditto for the polar bears and penguins. I'm sure they don't know any better, but looking at a mass of penguins standing around looking bored as they're crammed in a giant refrigerator does not in any way resemble how they really live from the movie March of the Penguins.
Shamu was great, as always, but I hated... hated the stupid-ass theme of the attraction which was "SHAMU - BELIEVE!" They tried to shoe-horn in a kind of Disney-esque "magical dreams" type story to the show, but it failed miserably. IT'S JUST WHALES JUMPING AROUND, PEOPLE! GO WITH IT, BECAUSE NOTHING ELSE IS NEEDED!
The dolphin show was amazing to watch, and had some fun to it.
The only attraction that I can honestly say I loved was the Seal and Otter show: Clyde and Seamore's Risky Rescue... and this despite the fact that it had a frackin' MIME in it. Maybe it's because it was genuinely funny... but mostly because seals and otters are cute.
From there we went back to San Diego's Gaslamp District for dinner with SJ. Here we are showing her our Shamu "Believe" necklaces...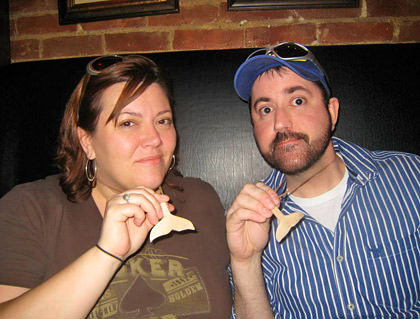 We ate at the most excellent "Nicky Rottens" where they have a great veggie burger on the menu...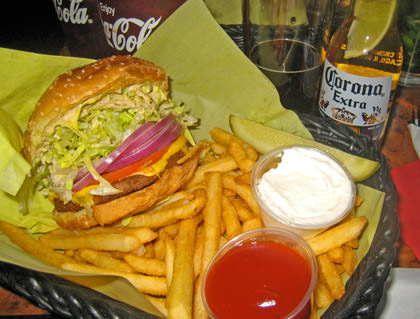 Then it was Pinkberry for dessert, but SJ has all the pictures of us there, so maybe they'll end up online over at Pseudotherapy.
As we were walking back to the parking garage, we ran into a giant talking cupcake!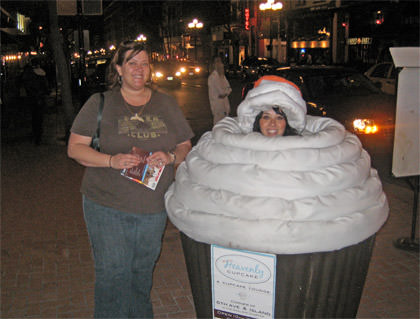 She demanded us to go to Heavenly Cupcakes for even more dessert, and who were we to argue? They are indeed, heavenly, as you can see by the halos that come on each one...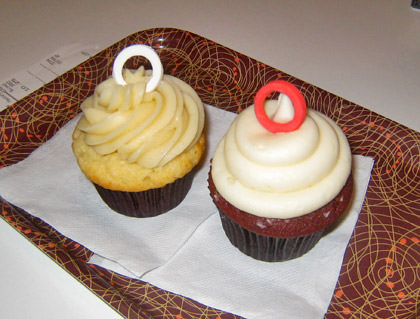 The end. Thanks to Hilly-Sue and Suzy-Jane for a fantastic final day in So-Cal!