'Tis once again time to unleash the bullets on this fine Sunday evening!
• Export. It's kind of an annual tradition for me to leave the country for my birthday. It started as a way to escape people wanting to throw me a party, but eventually just became habit (last year I went to Oslo). I had made a decision to skip this year and save the money, but eventually changed my mind. The crappy economy means airfare and hotels can be found cheaper, negating the horrendously shitty value of the US dollar abroad. It's still very expensive, but at least it doesn't require me to sell a kidney. The problem is that I only have a week, which really isn't enough time to explore any of my dream destinations like India or Australia, so where? Perhaps someplace I've been to before so there's no pressure to play tourist and I can just goof around for a few days...
• Dave Britain. And so Davedon and Davenburgh are on for March...
LONDON: I will be in London March 19-23rd & 25th. Since weekends seem to be easier for a blogger-meet, I'm thinking an early dinner on Saturday the 21st would be nice. If you'd rather meet up for lunch or dinner some other time, just let me know!
EDINBURGH: I will be in Edinburgh March 24-25 (UPDATE: This has been changed from the original Sunday date so as not to conflict with "Mothering Sunday" in the UK). I'm thinking we could have a blogger-meet after working hours on Tuesday the 24th.
If meeting up with some bloggers in either city sounds good to you, just drop me an email... my address is in the sidebar on every page!
• Twenty-Five. This weekend is the 25th anniversary of the Apple Macintosh personal computer. I find it sweetly ironic that a fucktard like Michael Dell was trashing Apple publicly only a few years ago, saying that the company should close up shop and give their money back to the stockholders. You can hardly blame him though... with Apple out of the picture, his ugly-ass Dell computer crap wouldn't look so tragic by comparison. But thanks to continuing innovations with Mac OS X and their massive hits with iPods and iPhones, Apple is doing just fine. And trading about $80 higher per share than Dell. Many congratulations to my favorite fruit-themed computer company!
• OBAMA! I had been passing along a link to some hilarious products shots for the Obama Action Figure, and was dismayed to find that they've since been removed. Fortunately, I still have a few of them archived on my MacBook. I'm going to post them here so I won't lose them, because they're pretty bad-ass...

Seriously, wouldn't you feel better about having a president with ninja skills?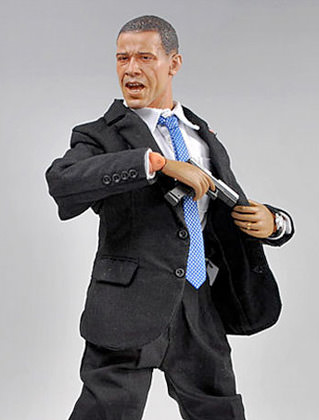 Obama getting ready to pop a cap in some Congressman's ass for not voting properly.

The Force is strong with Obama-Wan Kenobi!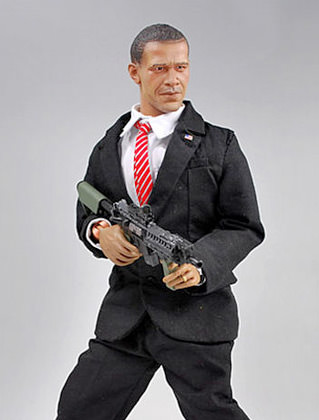 A president who isn't afraid of taking care of bidness!
I wants me the Obama doll... but the DID Corporation site doesn't offer much help.
And thus concludes another Bullet Sunday. Next week my bullets will be fired from Germany, where hopefully I'll have donuts to blog about...