I'm not the kind of person to disrespect a religious leader.
But screw the pope.
I've made no secret of the fact that I was raised Catholic. I was baptized... I attended Sunday School... I took communion... I went to church when I could. Even after I stopped attending service, I still maintained ties with the Catholic church so I could help with projects and fund-raising events and such. On top of that, I continued to go to Easter Sunday mass and Midnight Christmas mass long after I had stopped calling myself a Catholic... all because I missed the ritual and community of it all.
Despite eventually embracing different beliefs, I still loved the church.
Partly because I still had many friends and family who were members, but mostly because of the tremendous respect, admiration, and affection I had towards Pope John Paul II. He was a truly great man, and did remarkable things to make the Catholic Church less insular and more a part of the world community. He was a tireless advocate of human rights. He reached out to other religions in an effort to create a new era of acceptance and understanding between faiths. He was the embodiment of Christian ideals. He was a brilliant writer. He spoke a dozen languages. He made public apologies for historical wrongs of his church. He was a true leader... inspirational not only to his followers, but to everyone.
Not that I agreed with everything he did or stood for... that would be impossible for anybody. But I never lost respect for him.
And now all of John Paul II's hard work is systematically being destroyed by his successor, Pope Benedict XVI.
I was willing to give him the benefit of the doubt, despite being a member of Hitler's Youth and his best efforts to drag the church back to the dark ages. But then he refused to see the Dalai Lama at the Vatican, and I was done. Who refuses to see the Dalai Lama? The pope offended an aspect of my faith (as he had already done to so many others) and so I was done. Done.
And then today Pope Benedict un-excommunicated four renegade bishops which John Paul II had excommunicated. That's his privilege, but one of these bishops was Richard Williamson, a Holocaust-denying anti-Semitic asshole. Pissing all over John Paul II's legacy is one thing... but this is unforgivable. And I honestly don't give a shit why Benedict did it. He's done a very shameful thing, and I am deeply saddened for Catholics who have been tied to denial of this horrific act...
Somehow, I'm beyond done.
It's not even that he's a Holocaust denier. I mean, it is crazy given the mountains of evidence he claims doesn't exist (not to mention the testimony of not only the Jews who either survived or were forced to work at the camps, but also the Nazis interrogated after the war). For me it's the casual and condescending way that he dismisses the deaths of the people he admits were killed. Like a couple hundred thousand exterminated is a perfectly okay amount because it's not the nearly six million that has been estimated. What kind of priest has an attitude like this? As a man of God, shouldn't he be even a little horrified?
I'm wondering if now is the time for me to enact a hostile takeover of the papacy...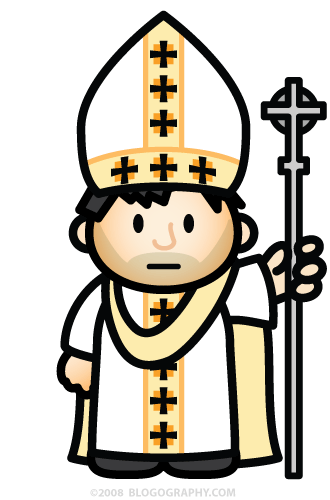 One of the hallmarks of being pope is infallibility. Obviously the current pope doesn't fit the bill. He's making mistakes right and left (as today's decision should make painfully obvious).
I'll get started on the "Dave Is My Pope" shirts.