I have no idea where this week went.
Snow. I'm pretty anal-retentive about making sure my car has all the snow scraped off of it. Not only is it safer for me, but also safer for other drivers out there. Unfortunately, a lot of other dumbasses on the road aren't so courteous. On the way into work this morning I was pummeled with chunks of snow from an idiot ahead of me who hadn't bothered to clean off his car. Fortunately, karma came calling when the dipshit pulled up to a stop and the entire shelf of snow and ice on his roof came spilling down on his windshield. He had to pull over, get out, then clean off his windshield as I drove around him, laughing my ass off. Sometimes justice is a dish best served cold.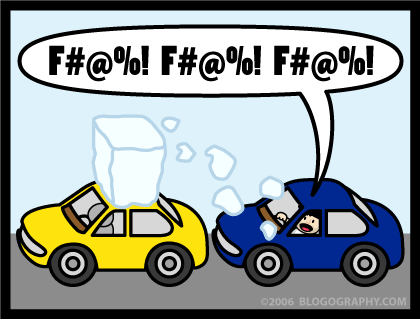 Storm. Finally got to play with the "iPhone killer" known as the "Blackberry Storm." I'm not impressed. It gets rid of the things that I actually liked about other Blackberry models, but has nothing from the iPhone that would make it any kind of competition to me. Once you've had multi-touch, you never go back. I can't fathom owning a mobile device without it. Apparently, Microsoft can't either. They're Live Labs has just released "Seadragon" for the iPhone, yet it's currently nowhere else to be found... not on Windows Mobile devices and not on Blackberry.
Auto. The saga of the American auto industry drags on. Personally, I don't know what to think about it all. I would certainly feel terrible for all the workers losing their job because management has run the companies into the ground... but, then again, that's the peril of a free market. Does the government really have a responsibility to save a business if it's going under? If they rescue the auto industry, what about all the other businesses in trouble? Do they get help too? The one thing I don't understand is how everybody keeps saying that the US auto-makers are "making cars nobody wants." Because when I research sales by brands, over half of the top twenty cars are made by American companies...
Ford F-Series Pickup - 235,924
Toyota Camry - 198,309
Chevy Silverado-C/K Pickup - 197,030
Honda Accord - 166,158
Honda Civic - 164,994
Toyota Corolla - 152,308
Nissan Altima - 133,465
Chevrolet Impala - 122,281
Dodge Ram Pickup - 112,795
Ford Focus - 105,499
Chevrolet Cobalt - 93,362
Honda CR-V - 89,017
Toyota Prius - 79,675
Ford Escape - 76,966
Chevrolet Malibu - 74,925
Ford Fusion - 73,197
GM Pontiac G6 - 71,062
GMC Sierra Pickup - 70,765
Toyota Tundra - 66,278
Ford Econoline/Club Wagon - 63,869
Of course, just because a company is American of foreign means nothing. The Toyota Camry, for example, is assembled in the right here in the US and is made from over half American parts. Ford, on the other hand, is shipping manufacturing to Mexico and Canada and does use foreign parts in their autos. So the issue here isn't quite so cut and dry, and one has to wonder if the "Big Three" US auto makers go under, is that a bad thing? Won't that mean that sales of the remaining American-made cars will increase so the jobs will just be shifted to companies who know how to make a profit? Sure they're foreign companies, but if the jobs are here, isn't that what's important? And who knows? Maybe letting the companies who can't make money fail will clear the way for new American companies with fresh ideas to be born? I honestly don't know. Hopefully people making the decisions do.
Car. All that being said, my dream car is the new BMW Z4 Roadster...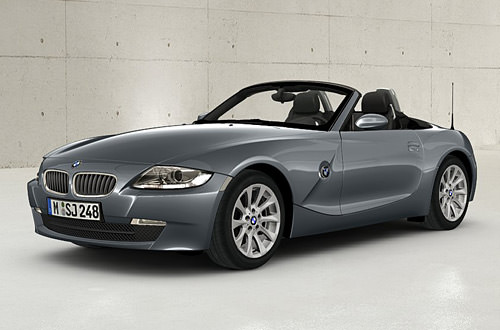 Sex. On. Wheels.
And now I really need to get back to work. And some Snack-Pack chocolate pudding.