Whenever I have to go to the FOX News website, I imagine for a moment that my DaveGuard Internet Protection System is going to pop up with a warning...


Of course, it's not like I don't know that already.
So here we are at FOX News, which claims to be fair and balanced... which claims to be unbiased... which claims to adhere to a higher standard of journalism. They put themselves up on a pedestal and label people "unpatriotic" for criticizing and attacking the Office of The President during wartime ("Pinheads & Patriots," O'Reilly calls it). Yep, everybody in America just hates America except FOX News and the people who watch FOX News.
Except when the president is going to be a Democrat.
Then it's totally patriotic to criticize and attack the Office of The President Elect. Especially in a time of war... even if it's in the most stupid and asinine way possible...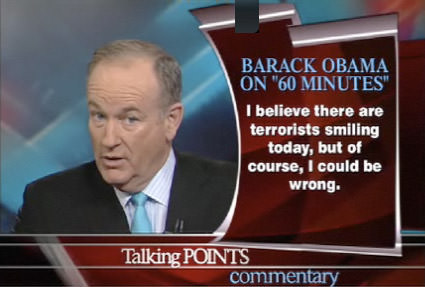 I've always thought that Bill O'Reilly was a complete and total fucking dumbass, but his latest "Talking Points Memo" shows that I was low-balling it.
O'Reilly, as usual, starts out with some valid, interesting, and thought-provoking questions about Barack Obama's plan to eliminate torture and close down Guantanamo Bay (Where will all those prisoners go? How does Obama define torture?). But then, as usual, he goes off the rails and surmises that terrorists around the globe are smiling today because Obama is somehow helping their cause.
Apparently, Obama's wanting to hold our country to a higher standard and set us apart from the terrorists we're fighting when it comes to torture is a bad thing.
Apparently, Obama's wanting to show the global community that our country can have decency and integrity in a time of war, and is an example to be followed is lame.
Apparently, Obama's wanting to get rid of obsolete Cold War operations so that our armed forces can be concentrated where they're needed most is worthy of ridicule.
Well, why not? The Bush-era policies have served us so well.
Right?
Ummm... no... not really. You are wrong, Bill O'Reilly.
The truth is that the terrorists must love to see things like the Abu Ghraib torture incident splashed across the headlines of the world press because that's what helps their cause. It enrages their countrymen and increases their numbers. It turns the world against the United States and serves to make us more hated. Never mind that it doesn't adequately represent the vast majority of those in our military who serve their country with honor, it hurts us. From all sides... internal and external... it hurts us as a country.
So what Barrack Obama is saying is most definitely not making the terrorists smile today.
What it is doing is taking a stand and telling the whole world that we are better than our enemies. It's reversing a course of total destruction that has the world hating our guts and questioning our sanity. It's setting an example that will make it more and more difficult for terrorists to garner sympathy for their "cause." It's helping to make our troops safer when they're captured. It's getting rid of a system that experienced U.S. military officers argue doesn't work, and is not a good way to get information. It's a step towards healing past wounds and moving this country forward.
It's the right thing to do.
But "fair and balanced" Bill O'Reilly would rather undermine President Elect Obama's attempt for positive progress in our "war on terror" by saying he makes terrorists happy. Apparently, he feels that is the unbiased and patriotic thing to do.
Whatever.
If people want to watch FOX News to get their look at world news and events, I'm fine with that.
But don't anybody tell me that this organization is any more unbiased and accountable than any other piece-of-shit "news" source out there, because they prove this to be untrue time and time again. Heck, I'd argue that by claiming to be otherwise, it actually makes them worse.
And that's my fair and balanced opinion.