Another Bullet Sunday has come, and I'm running short of time, so let's get to it...
• Chappelle. I've always enjoyed the program Inside the Actor's Studio and am amazed at the big names they manage to get for the show. On the occasion of the 200th episode, the tables were turned and interviewer James Lipton became the interviewee... by Dave Chappelle. He was, of course, genius. The guy could have a talk show and would be amazing at it.
• Hellboy. I was genuinely upset that Hellboy 2: The Golden Army left theaters before I could see it on the big screen. Now that I've seen this amazing film on DVD, I'm even more upset. Brillaint flick. I am hoping far a sequel to get a complete trilogy of films, but don't know how likely that is. Fingers crossed...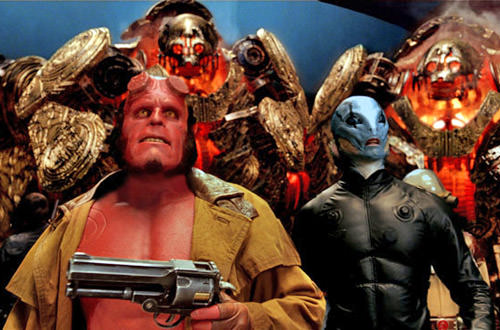 • Righteous. The latest round of injustices piled on the gay community in this past election were apparently the final straw. No longer willing to remain passive as their rights continue to erode, the gay community is fighting back. The demonstrations, boycotts, and educational campaigns are just the beginning. This was made very clear to me when one of my favorite comedians, Wanda Sykes, came out and rallied the troops...
And so it begins...
"We shouldn't have to be standing out here demanding something we automatically should have as citizens of this country. But I got pissed off. They pissed me off. And I said 'you know what? now I got to get in your face.' And that's what we all have to do now! They pissed off the wrong group of people. They have galvanized a community. We are so together now and we all want the same thing and we are not going to settle for less. Instead of having gay marriage in California, no, we're gonna get it across the country. Because when I leave... when my wife and I leave California, I want to have my marriage also recognized in Nevada, in Arizona, all the way to New York.

How can you stop people from loving each other? How can you get upset about loving? I'm sick of this stuff about 'oh... well, you made that choice... that's your choice.' Gay is not a choice! Being gay is not... that's like telling me I chose to be a woman... I chose to be black. Are we saying that if being gay is a choice that people are straight because they chose not to be gay? I am very proud. I'm proud to be a woman, I'm proud to be a black woman and I'm proud to be gay. I love you all. Now let's go get our damn equal rights!"
If that doesn't sum it all up in a nutshell, I don't know what does. You go girl. For everybody.
• Inferno. My thoughts go out to everybody in California affected by the fires. I've been there... twice... and hope that everybody stays safe.
Back to work.