Generally speaking, I don't think much about the things I write on my blog. Each day when I find a free moment, I sit down and type out whatever happens to be crossing my mind at the time. There's no real agenda or message I'm going for, it's just random crap that's mostly useless and occasionally entertaining. This is not to say that I don't have lucid moments... every once in a while I've actually got something to say... but nobody's going to confuse Blogography with anything that's to be taken seriously. I draw cartoons with monkeys for heaven's sake.
This is a system that serves me well, even if it does result in my having to deal with random hatemail and nasty comments every once in a while. If you put yourself out there on the internet long enough, the hate is inevitable, regardless of how ridiculous you are.
Knowing that doesn't make it any easier, however.
Today I deleted the entry I had written rather than invite the inevitable hatemail that would have come from it. I just don't need the drama right now.
So instead, here's a cartoon of a monkey to look at...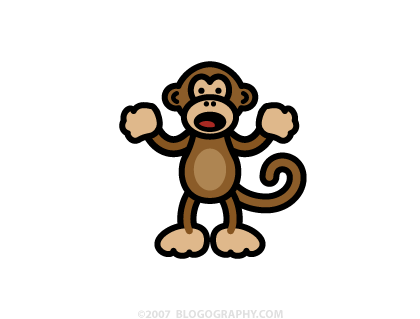 Hopefully tomorrow I'll stop thinking when I blog again. It's a lot more productive.