Hello from San Francisco!
The Palace Hotel where I'm staying wants $17 in internet fees for me to post this entry, so I'm guessing it will have to be posted tomorrow. I am also guessing I will never again stay at The Palace Hotel. It may be a beautiful property with wonderful rooms and impeccable service... but I'm not going to be ripped off by a douchebag hotel that charges such an outrageous amount of money for something that I get for free when I stay at a hotel that costs half as much. Fuck The Palace Hotel. Fuck them up their greedy stupid asses.
This morning I met up with Kentucky Girl and her husband to explore Chinatown (again). Here's what I learned this time around... 1) Kentucky Girl likes to play with peckers. 2) Panda loves tea. 3) My new Hannah Montana singing pen is my most favoritest pen ever. No matter how many times I buy freshly-made fortune cookies, they're so damn good that it tastes like the first time all over again...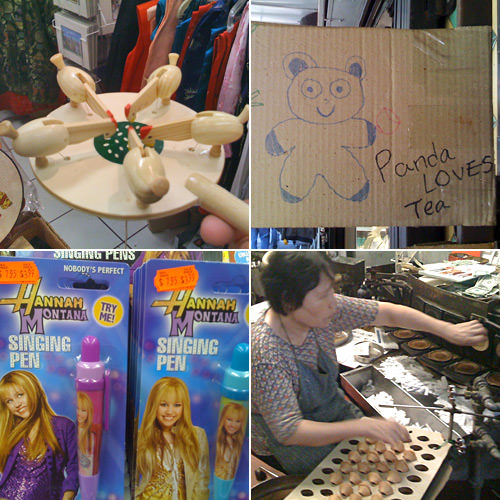 Good news for anybody looking for a low-interest housing loan... Washington Mutual has money to burn! Oh... wait a second...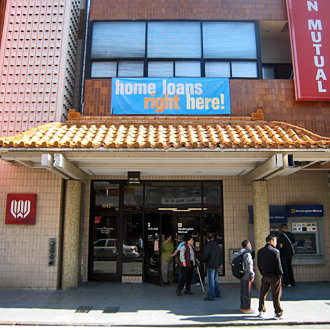 After buying a couple bags of crack fortune cookies, we walked back towards Market St. where we saw this very cool sign for the "Hungry I" topless bar...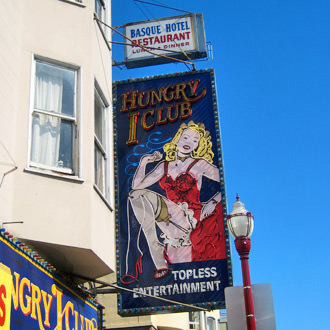 And then we ran across a Scientology protest at the TransAmerica Pyramid Building. The protesters were holding such signs as "Tom Cruise Scares Me" and "Join Scientology, Go Bat-Shit Crazy" and "Stop Scientology's Crimes." All the activists were wearing goofy masks, which kind of undermined whatever message they were going for (probably to protect their identity and avoid the consequences of Scientology's "Fair Game" policy), but that wasn't half as silly as protesting in the Financial District on a Saturday when hardly anybody was around...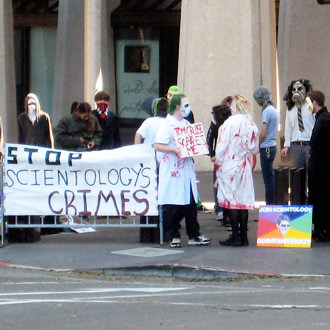 For whatever reason, my leg was killing me by the time we got back to Pacific Place Centre, which required me to hobble back to my crummy hotel for drugs and a couple hours of napping. The good news is that the Oxycontin really helped in eliminating the excruciating pain. The bad news is that I spent the rest of the day drugged out. By the time Jester and Uncle Monkey Boy dropped by for a trip to Haight Street, I was feeling no pain at all. It was there that I got to see this very cool Obama painting on one of the buildings...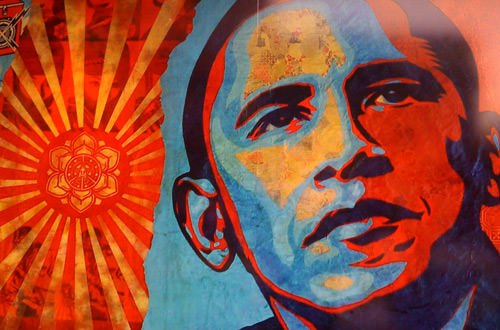 But that coolness paled in comparison to the big surprise that Foo-Diddy had in store for me... Hilly-Sue made it to Dave Francisco! This was such awesome news that we celebrated by going to a gourmet hot chocolate shop (which obviously stole my idea for Davebucks)...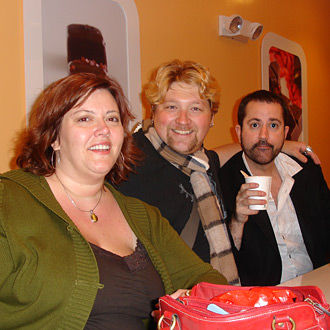 Then we went to a bar in North Beach that had the most lethal Long Island Ice Teas I've ever tasted. The interaction of such heinous levels of alcohol coupled with the drugs I took had me so out of it that I barely noticed that Hilly was licking my nuts. But don't worry... they weren't peanuts, they were cashews...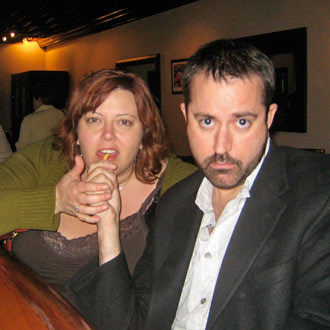 Dave Francisco dinner was at "Joey and Eddies" next to Washington Square Park. It was a little pricey, but the pasta was cooked so perfectly that it was worth every penny. Their beautiful al-dente noodles were sublime, and just reinforced my belief that all these restaurants which continue to serve mushy, over-cooked pasta should be forced to close their doors. Oh how I love properly-cooked noodles!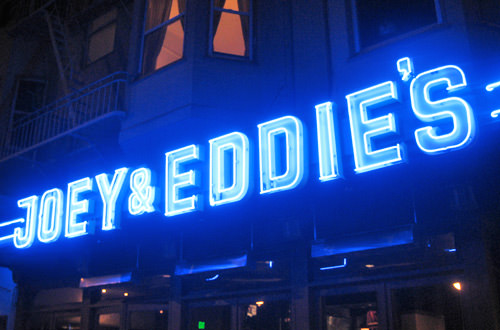 In attendance were a fine bunch of people...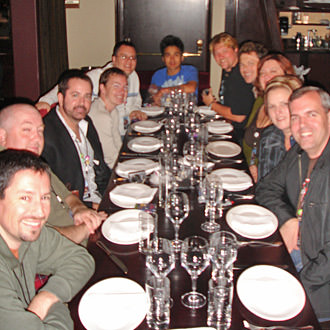 (from lower-left, clock-wise)...
Thanks so much to everybody who could make it for a terrific evening! (and a special thanks to Hilly for driving all the way up from L.A. and sharing her pictures with me, and Jester for scoping out restaurants and taking care of reservations and stuff).
This was such a great day. I really wish I didn't have to fly home in the morning.