I've never been much into Halloween or getting dressed up for the occasion... but last year I had to change that.
Avitable was having his annual Halloween party in Florida and, since I was going to be somewhat nearby (Memphis), I decided to go. At first I was going to drop by a Halloween store and buy a SpongeBob Squarepants costume... until I looked at photos from his previous party. The costumes were pretty imaginative, and I realized right away that SpongeBob Squarepants wasn't going to cut it.
So I decided to go 100% geek for my costume and become "Holovirus-Infected Rimmer" from one of my favorite cult TV shows, Red Dwarf. The only thing I could buy was the Mr. Flibble puppet... everything else I had to make myself...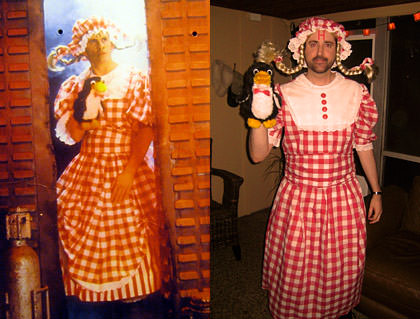 The "real" Rimmer is on the left, I'm on the right.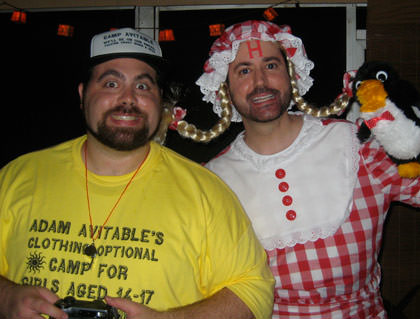 Here I am hanging out with Avitable and Mr. Flibble.
Making my costume was really hard and took a long time (the pigtails wig alone took an entire day to create). This year I thought that I'd get a head start, and began constructing my costume a full month early. Unfortunately, a major part of my costume was back-ordered for weeks, then ultimately cancelled. So this past weekend when I was in Seattle I had to start over from scratch.
Eventually I decided what my costume was going to be and went shopping for all the pieces. Once again everything would have to be hand-made, and this time my idea was going to be more complex than last year. To make matters worse, I was so swamped with work that I barely had time to play around with costume-making, and didn't get around to it until tonight.
It's now 1:00am and the costume is still not finished.
Hopefully I'll have a chance to finish it up in Florida or else I'll be going as Naked Cowboy.