This has been a very challenging week for me on all fronts, and I am glad it's over. Hopefully I can manage to get caught up on all the emails, orders, blogs, and work I missed while dealing with the drama so things can get back to normal. It would be nice to have a little "normalcy" in my life right now.
• Thanks! A heartfelt thanks to everybody for the kind comments and emails this past week. I read absolutely everything I get, but haven't had much time to reply or comment myself. I'd like to send out a special thanks to the many, many wonderful people who were supportive of my posting of Henry's story a while back. Entries like this are not easy for me, and the nice feedback I got was much appreciated.
• High? I love these ads encouraging people to find out the facts about High Fructose Corn Syrup by pointing to a web site created by the people who make High Fructose Corn Syrup. I'd encourage people to do their own research on the evils of this horrendous shit and see where they net out. I only wish that there was away to easily avoid eating the crap, but it is in absolutely everything. I eat as little High Fructose Corn Syrup as possible, and hope that food manufacturers will start phasing it out like they have trans fats. In the meanwhile, these misleading ads will continue to tell people that High Fructose Corn Syrup is "okay in moderation" when there's no way to moderate it because most foods you buy have it in the ingredients...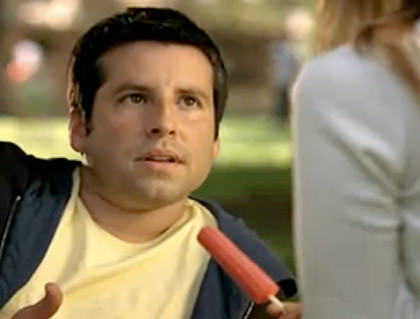 Yo, bitch... you trying to kill me with that shit?
Bonus points if you watch the above-mentioned ad and notice that neither one of the actors in the commercial dare stick that High Fructose Corn Syrup laden popsicle in their mouths.
• Wrong! One of my most favorite features of my iPhone is having Google Maps in my pocket. When I need to find something, it's an invaluable resource. But not always. I am having a really tough time getting accurate information lately. I'll zero-in to where I'm at, search for something, and up will pop the location... except not really. I'll drive there only to find out that the information provided is outdated, inaccurate, or just plain wrong. Example... As I was driving home I wanted to see if a halloween store was around, so I Google Mapped it and came up with "Planet Halloween Superstore" in Monroe. Perfect. But having been burned by Google Maps before, I clicked through to the website and saw the information was indeed correct. So off I went... only to find it doesn't exist. So I call the number on the website and find out that it's been disconnected. Great. You'd think people would be nice enough to erase the website for a business that doesn't exist anymore so they don't waste people's time, but I guess not. Lame. What's even more frustrating is that Google Maps doesn't do anything about it, even when you put in a request... like I did for the now-dead Johnny Rockets in Chicago. It shows as "removal requested" in my web browser, but hasn't actually been removed...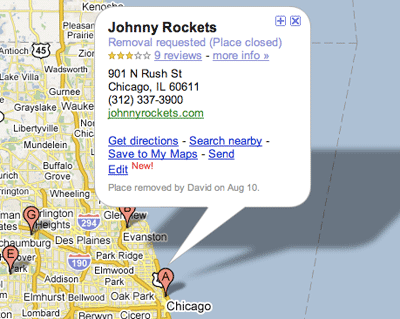 And now let's look at the location on my iPhone...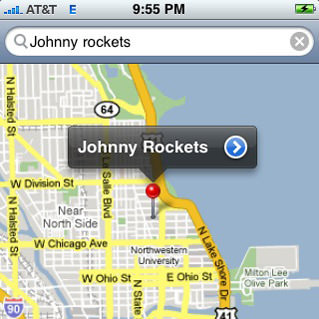 Yes, that's right... this mobile version of Google Maps doesn't bother to show the removal request, which is pretty messed up. I guess I just have to remember to distrust Google Maps every single time I use it until I've verified the information directly. Kind of defeats the purpose, but that's progress for you.
• Watching! Finally got my copy of Dave Gibbons' Watching The Watchmen while I was working in Seattle... and was really disappointed. I was drooling at the prospect of insider information about my favorite graphic novel of all time but, despite weighing in with a whopping 256 over-sized pages, there just wasn't a lot there. Mostly just page after page after page after page of thumbnail layout sketches showing sketchy compositions with an occasional comparison to the actual printed page. As if that wasn't bad enough, the book's design sucked ass. Who the fuck puts small blue text over a black background on glossy paper and expects that anybody will be able to read it? I was constantly shifting the book as I was attempting to read it in order to see the text without having it blown out in reflective glare. Monumentally fucking stupid and an EPIC FAIL. My recommendation is to skip the book. If you're a die-hard Watchmen fan, it's worth a check-out at your local library, but hardly worth owning...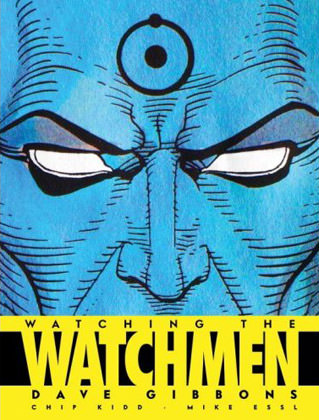 • Voted? Still encouraging people to vote in the upcoming election. Many states allow early voting so you don't have to wait in lines come November 4th.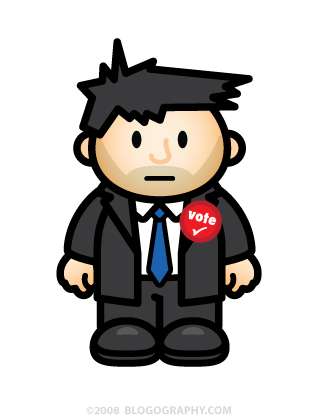 And now I think I shall retire so that I can get up at some obscene hour and go to work early.