I'm writing a Bullet Sunday that I know I won't get to post! How awesome is that?!?
• Sorry! Okay then... first, thanks to all the nice people who emailed me to make sure I was okay because I didn't post entries for the past two (now going to be three) days. On Friday I wrote an entry, but didn't want to pay a $12 internet fee to my hotel to post it, so I thought I'd do it Saturday morning at my new hotel. But then I found out my new hotel has flaky internet that didn't allow me to post at all. So I dutifully wrote entries each day anyway, and will posted them when I get home tomorrow. Likewise, I'll try to get caught up with all the email which has been piling up. For future reference, if I should ever drop off the face of the earth again and new entries aren't showing up, you can always take a look at my Twitter updates, which are posted in the sidebar and at DaveStalker™ (it's easier to update Twitter from my iPhone than my blog when I'm on the go).
• TQ2009! For those who have been emailing and Twittering to ask about TequilaCon 2009 plans, I'm not your man. TequilaCon is Jenny and Brandon... I'm just a lackey who flies to planning meetings when I'm summoned and makes the lanyards. For breaking TQ2009 news, be sure to keep checking TequilaCon.com (which currently points to a Flicker album from TQ2008, but will eventually point to Jenny's post on next year's event). About the only thing I can tell you is that the host city for next year has been narrowed down to three choices, and they all took us by surprise. I guess these planning meetings aren't just an excuse to drink copious amounts of alcohol after all!
• Economical! I've heard of people losing their shirts as the stock market tank, but apparently they're losing their pants now as well. Spotted this morning on Wacker and Dearborn here in Chicago...
• Chicago2! After viewing beautiful works at The Art Institute of Chicago, Jenny, Vahid, and I met up with Brandon at Pizanos Pizza for lunch and then headed to Millennium Park. Brandon then just had to see Obama's Three Million Dollar Overhead Projector at the Adler Planetarium, so off we went. Except the Chicago Marathon was in town, so we ended up having to walk twenty miles in the scorching heat to get there. But it was all in the name of science, so it's all good in the end.
• Betty! Usually, I don't like putting stuff on Blogography that I didn't create... but I will always make an exception for Betty White, who I love more than chocolate pudding (which is saying a lot). She recently made a brilliant appearance on Craig Ferguson, and has been catching some flack for calling Sarah Palin a "crazy bitch" while play-acting as John McCain's speechwriter...
First of all, Betty was playing a character. Second of all, Sarah Palin is a crazy bitch. That's what being a maverick is all about! Because abstinence-only sex education really works, people!
• OutFOXed! I was wholly disgusted to see that FOX Home Entertainment has gone and revised the DVD boxes for The Simpsons yet again. They've taken a kind of "hybrid" approach between the original (and very cool) boxes and the outrageously fucked-up and stupid "giant head" boxes that started appearing on the Sixth Season set. Now, there's still a giant head (it's Krusty!) except you can peel it off so it fits on the shelf next to the rest of your collection. The problem is that peeling off the giant head strips ink from the "real" box leaving it looking shitty. But if you leave the damn thing on, it looks like shit anyways, and takes up twice the space on your shelf unnecessarily...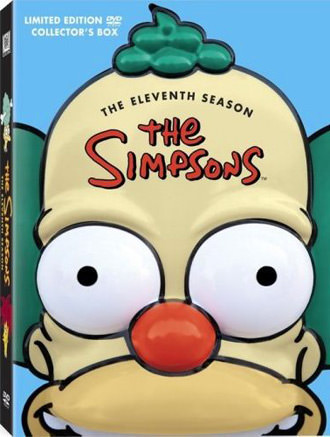 But that's not even the worst part. The worst part is that INSIDE the box they no longer have snap-in spaces for the DVDs... they now just slide them all into a giant accordion-style cardboard sleeve. This not only makes it difficult to get your DVDs in and out, but it also makes it easy to damage both the DVDs and the packaging. So fuck you FOX Home Entertainment. Fuck you up your stupid fucking asses, you greedy fucking assholes. I was already pissed that my Simpsons DVD collection doesn't have a consistent look between seasons when sitting on the shelf, but now I'm pissed that I ever started buying your fucking DVDs in the first place. You cut corners where it counts by using cheap-ass packaging, and don't give a flying fuck about your loyal customers, so why should I give a shit about you? I guess this teaches me a lesson... don't send money to studios who treat you like crap and stick you with poor-quality product, just download the stuff you want off BitTorrent so you don't have to deal with their bullshit. It's really amazing how movie and television studios bitch and whine about piracy, yet they do everything in their power to force consumers down that path. Big fucking surprise. Well, congratulations FOX Home Entertainment, unless you make this right with your customers, I've just bought my last fucking Simpsons DVD set from you. Shame on The Simpsons creator Matt Groening for allowing FOX to treat people like shit on his behalf. I hope the millions of dollars he's making off of his creation compensates for the ill-will of his fans who has supported him all these years.
Hopefully I will get home and the internet there will be working. Otherwise, I guess I'll be posting this sometime next week.