I've been thinking that bad news can always be made worse, but can rarely be made better.
Take today for example. I had to get up at 4:00am after only 4-1/2 hours sleep to make my first flight, then didn't have time for breakfast because of a very short layover in Seattle. So when my bad news came, I was both tired and hungry. Would my news have been less bad if I had been well-rested with a full stomach? Probably not. Heck, I'm pretty sure it would have still been bad news had it been delivered by two dozen topless dancing girls while eating breakfast in bed with Elizabeth Hurley. Bad news sucks regardless.
But Johnny Rockets DID have a veggie burger in stock for lunch... I DID get to eat dinner with a friend I haven't seen in a long time... and I WILL get to go fortune cookie hunting with Kentucky Girl in the morning... and it IS Dave Francisco tomorrow night... and I DO happen to be in San Francisco, which is a fantastic city... so I guess if you're going to get bad news, there are worse ways you could console yourself into recovery.
And, as if that wasn't good enough, I did get to see a rat on top of a cat on top of a dog today. That almost never happens!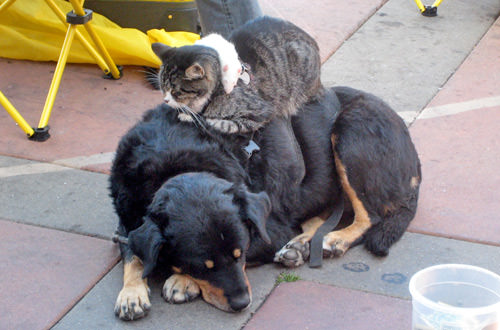 Since it would be pretty hard to top something that fantastic, I won't even try.