DON'T FORGET: There's still time to enter the Bullet Sunday 100 contest in yesterday's entry! Fabulous prizes from The Artificial Duck Co. Store can be yours, but you must enter a comment to win!
And speaking of not forgetting...
Davestin 2008 is THIS FRIDAY! If you were wanting to attend and haven't gotten an email from myself or Karla, please let me know! We want to make sure that the reservation count is correct.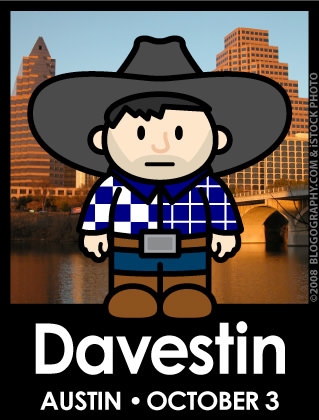 Food allergies are kicking my ass lately, which is putting a serious crimp on my lifestyle.
As usual, there's no telling what's the cause of it, though I'm leaning towards peanuts again. The entire time I was in Hawaii I had -zero- problems and the only thing I can think of that's been added since I got back is peanut butter. After two Uncrustables Saturday night and a peanut butter sandwich for lunch yesterday, I ended up with massive welts on the bottoms of both feet and my left palm. Overdosing on Benadryl made it so I could walk again this morning, but the welt on my hand spread from my palm down my wrist. Now I'm overdosing on Cetirizine, because it's not supposed to put me in a coma like Benadryl does.
Here's hoping.
Because while the sleep may be nice, waking up in a drugged-out stupor is not. I kind of need my brain to get through the day.