UPDATE: CONTEST CLOSED! Thanks for your entries! Winners will be drawn this weekend.
Welcome to the ONE-HUNDREDTH edition of Bullet Sunday!
It seems like just yesterday that I wrote my first Bullet Sunday as a way of collecting all the little things that weren't enough for an entry of their own throughout the week... but it's been nearly two years! In celebration of the event, I've decided to post a dozen random bullets from the past 99 entries AND have a contest for amazing prizes from The Artificial Duck Co. Store at the end! w00t!
On with the bullets...
• DOLLS! (from Bullet Sunday 9, Dec. 3, 2006) Now that they've released a "Doctor" Laura talking doll to go with the Ann Coulter talking doll, the "Hypocritical Dumbass Whore Talking Doll Line" is nearly complete...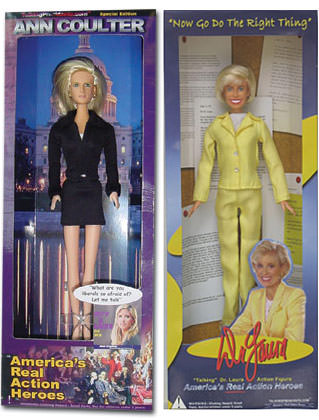 All we're missing is Rush Limbaugh and Bill O'Reilly.
• Best Explanation of Why I Am The Way I Am... (from Bullet Sunday 11, Dec. 31, 2006)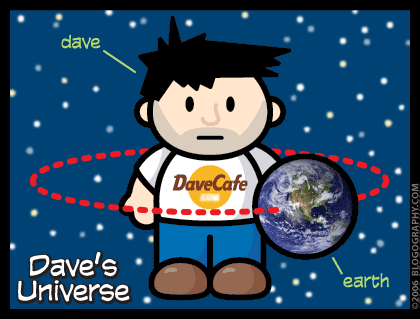 Yes, the world really does revolve around me.
• Mouthy... (from Bullet Sunday 16, Feb. 4, 2007) Is there an over-abundance of loud-mouthed, obnoxious bitches in the world... or is it just my grave misfortune to be consistently seated in their vicinity during long plane flights? I had yet another one behind me for a lovely 9 hour flight out of Cologne. This woman talked CONTINUOUSLY, irritating the shit out of just about everybody. Fortunately, by the time she got to her rant about Mexico being a "dirty, disgusting, 3rd-world country that she won't visit," I was able to turn on my iPod. This saved her from my wrath, as I was just about to start screaming "SHUT UP! SHUT UP! SHUT UP! SHUT UUUUUUUP!! But, alas, I couldn't resist being a smart-ass when she was in the lavatory...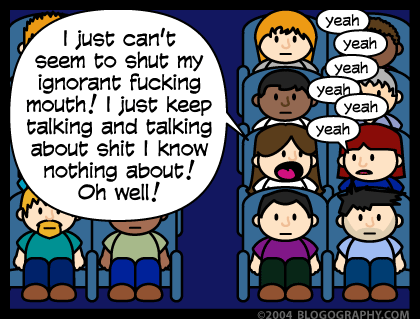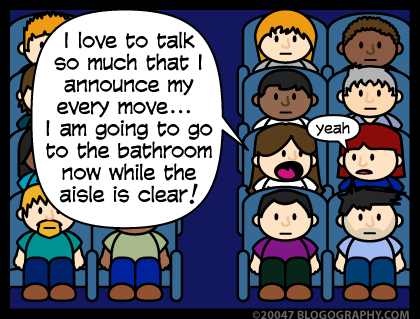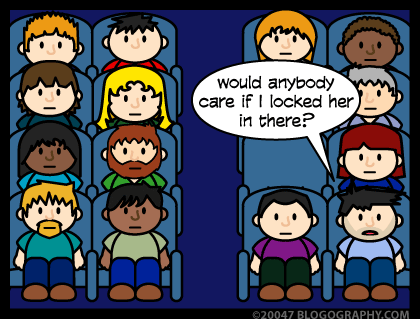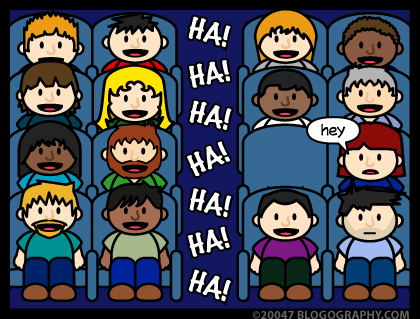 And you know what? I don't even f#@%ing apologize for saying it. Screw her and her big mouth, because NOBODY wanted to hear it. All we wanted to do was have a peaceful flight under cramped, horrible conditions, and I don't think that's too much to ask. Read a book. Watch the movie. Listen to music. Do whatever the f#@% gets you through those nine hours... AS LONG AS IT ISN'T BUGGING THE CRAP OUT OF EVERYBODY ELSE! Because blathering loudly about stupid shit while people are trying to relax or sleep or work or whatever is just making you an inconsiderate asshole.
• Ladykiller. (from Bullet Sunday 21, March 11, 2007) Yeah, this photo from Hilly pretty much sums up the "TequilaCon Experience" for me...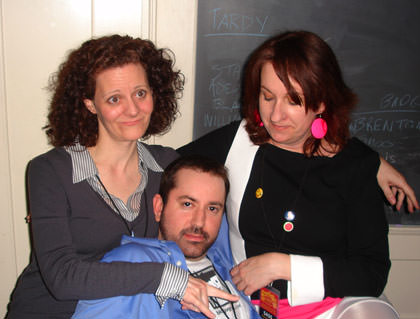 Yes, bitches! I am one sexy bastard! Just ask Jenny and Sass...
• Scare the shit INTO me... (from Bullet Sunday 35, June 17, 2007) Speaking of fast food, why is it that the fast food industry always seems to choose freaky-ass mascots to represent their companies? What are they trying to do... scare you into eating their shit?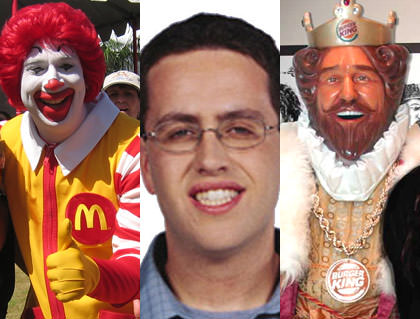 • Paris! (from Bullet Sunday 36, June 24, 2007) OMG! Like, Paris is getting out of jail early and will be released on Tuesday! JUSTICE PREVAILS! Which means I guess it's time for me to come clean about something... since the tabloids are sure to break the news soon anyway.
I am totally dating Paris Hilton.
I wrote her letters of encouragement while she was doing time, and she understandably fell head-over-heels in love with me. I will be moving to L.A. at the end of next week so Paris and I can be together. 2GETHER 4EVA!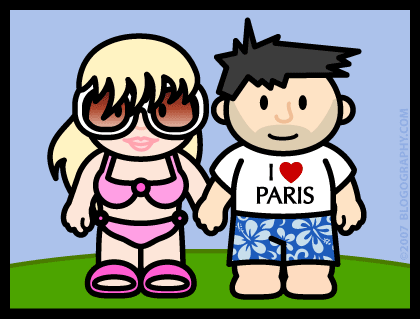 Lil' Dave is totally not wearing panties in this shot...
We ask that the media respect our privacy as we plan our new life.
And by "respect our privacy" we mean "follow us around and take our picture everywhere we go, because we are so totally hot and interesting and deserving of your love."
• Talk! (from Bullet Sunday 42, Aug. 5, 2007) While seeing The Bourne Ultimatum in a packed theater, I found myself thinking of a new Dumbasses Book for my series...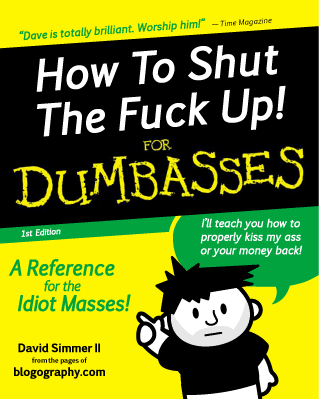 There are entirely too many people in the world who simply cannot understand this simple concept, and about twenty of them decided to go to the movies at the same time I did.
• But Not Really... (from Bullet Sunday 47, Sept. 9, 2007) Okay just one more thing about Zune. THIS WAS WHAT MICROSOFT THOUGHT WOULD BE AN iPOD KILLER?!? It's so craptastically bad that I can only guess it was crapped out of somebody's ass in an explosive case of diarrhea. It certainly looks as if that's the case...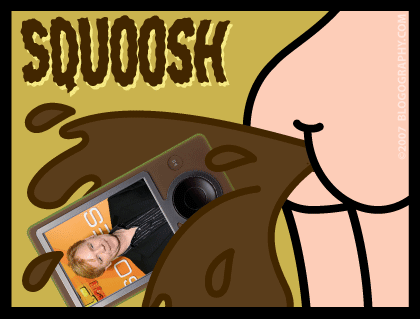 Microsoft has BILLIONS of dollars! But what good is it if they only spend $2.50 on research and development when they decide to enter a new market? NOTE TO MICROSOFT: SPEND THE FUCKING MONEY TO MAKE OBSCENELY AMAZING PRODUCTS!! Put in a billion-dollars and come up with a media player that has anti-gravity controls, a 400dpi 3-D screen, wireless power recharging, and folds to the size of a pack of gum! Otherwise, why bother? Why continue to release complete and total shit that isn't a leap ahead of what's already out there? For crying out loud, who is in charge over there at Redmond? If this is your answer to iPod, I can't wait to see your iPhone competition. Seriously, I could use a good laugh.
• Science! (from Bullet Sunday 51, Oct. 7, 2007) Yesterday while I was running errands, I dropped by the crafts store for some spray glue. As I was standing in line to pay for my stuff, I saw a kid holding a cardboard "presentation board" which he was using for his Science Fair project. This made me a little bit angry. CARDBOARD? Back when I made my science fair project, I had to use REAL WOOD BOARDS and METAL HINGES and SCREWS. My science fair board weighed a ton, but had the benefit of being indestructible. I pity the fool who uses wimpy CARDBOARD on their science fair project! So this is what people mean when they talk about the "pussification of America!"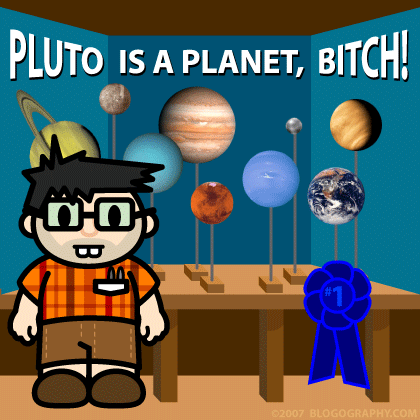 • Pole! (from Bullet Sunday 57, Nov. 25, 2007) What is it with the latest fitness trends that keep popping up, disappearing, then popping up again? I'm seeing ads (once again) for POLE DANCING as exercise. I could make a number of smart-ass comments here, but instead I decided to buy a pole and get into shape! Off I went to Amazon to get an instructional video... and imagine my surprise when I found out there's a whole world of slutty exercise programs to choose from!
And now I can't decide if I want to learn exotic dancing, pole dancing, lap dancing, or bump n' grind strip-dancing. My gut instinct is to stick with pole dancing, but I'm thinking there's more money to be made in lap dancing. At least that's always been the case when I'm paying for it. Because, hey, there's nothing to say a guy can't earn a little cash while getting into shape.
• Lesbionic. (from Bullet Sunday 72, March 9, 2008) I suppose I shouldn't be too hard on Representative Kern... but I'm lashing out from fear. Fear that she and her homophobic nut-job comrades might actually be able to make good on their Nazi-esque fantasies of cleansing the nation of homosexuals. A nightmare! WHAT WILL HAPPEN TO LESBIAN PORN?!? Because right now I'm trying to decide which video I need most, and that's a struggle I'm not wanting to give up...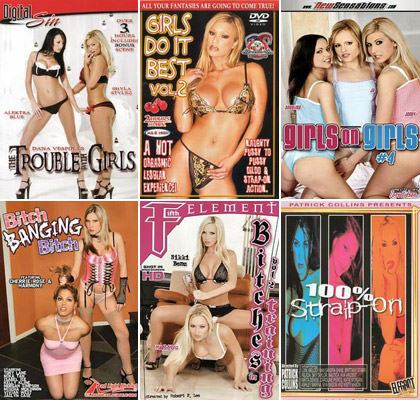 I'm leaning towards "The Trouble with Girls" because it sounds naughty! But then I see "Girls Do It Best: Volume 2" and think perhaps that's the way to go... obviously these babes are really good at making lesbian porn if they've got a SEQUEL going on! Except further down the shelf there's "Girls on Girls: VOLUME FOUR" yes, VOLUME FOUR, which sounds great, yet I can't help but wonder if they're just running the series into the ground like the Star Wars prequels did? But then... THEN... I spot "Bitch Banging Bitch" and think this video must be the one to beat... it's got bitches in it! And they appear to be experienced bitches, unlike the amateurs to be found in "Bitches in Training." And there's always "100% Strap-On," which could be interesting and educational... or just very, very scary. What's a boy to do? Well, if people like Sally Kern get their way, there won't be anything TO do. The lesbian porn industry will be shut down. THIS is AMERICA?!? Nay, I say! Hmmm... I wonder where Obama stands on lesbian porn?
• Happy Mother's Day! (from Bullet Sunday 80, May 11, 2008) I don't feel much like typing right now, so I've decided to drop a video for today's 80th edition of Bullet Sunday here at Blogography!
For my valued readers who are deaf, have hearing difficulties, don't have sound, or can't play video, a transcript of the video has been added in an extended entry.
Have a super awesome week everybody!
CONTEST!!
Leave a comment with a valid email address (which will not be shared) telling me something you'd like to have a hundred of. A hundred dollars? A hundred kisses from Elizabeth Hurley? A hundred cups of Snack-Pack Chocolate Pudding? A hundred of anything you want! — I'll then randomly pick three commenters who answered the question and they'll win a certificate good for one T-shirt, one hat, and one deck of cards from The Artificial Duck Co. Store! How sweet is that?
UPDATE: CONTEST CLOSED! Thanks for your entries! Winners will be drawn this weekend.
As for me? I'd like a hundred more Bullet Sundays!