More than once I've been asked by people what my most bizarre, craziest experience has been in all my years of traveling. My answer is always the same: shopping at an Ambercrombie & Fitch store.
I'm not trying to be funny either... every time I go into Abercrombie I am inundated with crazy, and find it a more bizarre experience than anything else I can think of. The walls are covered with mostly naked guys and gals, but the store sells clothing. The music is so loud that it is impossible to communicate with the staff, assuming you can find any staff (they don't wear name tags or a uniform, so it's hard to know who works there). The store is impeccably maintained and beautifully merchandised, but the bulk of the clothing they sell looks like rags. I could go on, but if you've shopped there, you already know what I'm talking about. And if you don't know what I'm talking about, Improv Anywhere did a massive prank at an Ambercrombie & Fitch store that you must see.
Anyway, after deciding to go on vacation, I realized I needed to buy some vacation clothes. This isn't as easy as it sounds, because most stores have already transitioned over to Fall apparel (even though it's still August). But Salt Lake City has "The Gateway," which is a nice place to shop (even if you hate shopping like I do) so I decided to give it a try. Store after store had no shorts or short-sleaved shirts, until I got to Abercrombie, which had plenty.
So there I am looking around when I see that everything looks really small. Not knowing what the deal is, I shout at a sales clerk over the thumping music to ask where the mens shorts are. She screams back at me that I'm in the KIDS Abercrombie store, and I need the ADULTS store next door.
WTF?!? So I look around and, sure enough, it's mostly moms shopping with their kids. But the walls are still covered with half-naked adults, which I found totally bizarre for a kids store (though not nearly as odd as if the walls had been covered with half-naked children). Then I walk outside to see how I could have possibly missed the sign saying this was "kids"...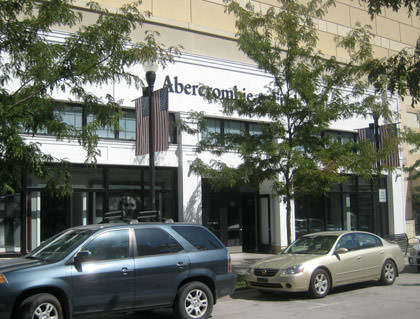 Uhhh... yeah... how in the hell would you know? They look identical, and are designed with identical fixtures, identical half-naked signage, and have identical clothing (it's just that one has it in smaller sizes).
So I go to the store next door to the ADULTS store and start looking around. Depending on how crappy my health is at any given moment, my waist size fluctuates from a 30 to a 34. I usually split the difference and go with a 32 which, at Abercrombie Land, means I'm fat. I always end up having to dig to the bottom of the pile, where the largest size is usually a 36.
Not finding what I'm looking for, I eventually spot two guys folding shirts while scream-chatting, and take a guess that they work here (apparently, folding shirts is a two-man job). After yelling what I am looking for, I get an eye-roll from one of the guys and am led around the store at breakneck speed while he points to things. Since I can't hear him and am struggling to keep up, I assume that he's pointing at the stuff I was looking for. After that, he bellows "LET ME KNOW IF I CAN HELP YOU FIND A SIZE" and runs back to the guy he was folding shirts with.
Eventually I manage to find two pairs of shorts I want, so I go to a cash register in menswear... and nobody is there. I go to the main cash register section... and nobody is there. I wander into womenswear, but can't tell if any of them work there. Just as I'm about to give up, a young woman sneaks up behind me and asks me a question of some kind ("What?" - "ARE YOU READY?!?") then gets a second young woman to wait on me. This one says something I can't understand as she removes the security tags ("What?" - "HAVE YOU TRIED OUR FRAGRANCES?") and then yet another young woman comes to ring me out (apparently running the cash register is a three-person job).
When I'm handed my bag (a work of art, really) I consider asking for something "less gay" but decided against it...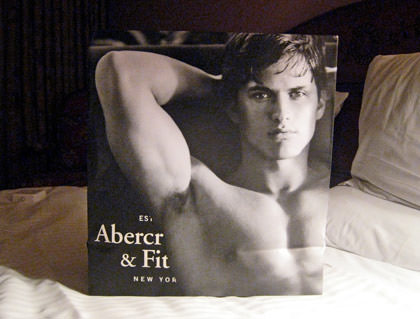 I'm secure enough in my sexuality that I don't mind walking around with a naked dude on my shopping bag... but I just don't think I'm manly enough to pull it off with any kind of authority (with a bag like this, I'm guessing it would take somebody like Chuck Norris or John Wayne).
As I leave, I get a wave from the guy who "helped" me... still folding the same damn shirts with his buddy... and wonder how much of my hearing I've lost.
By the time I figure out Salt Lake City's TRAX train system and get back to my hotel, it's time to head out to the Hard Rock Cafe for Dave Lake City 2! Instead of walking, I try to navigate TRAX again, which ends up taking 45 minutes to travel just over a mile (a story for another time). But I still somehow manage to show up with one minute to spare.
Attendees consisted of myself... and Marty from Banal Leakage...
Needless to say, Dave Lake City 2 was awesome!
Annnnnnd... I can't access my blog to post this. Apparently it's down for "planned maintenance" or something. Terrific. I was hoping that I could add one more thing to my massive list of things to do tomorrow morning.