It's time for another edition of bullet-points gone amok!
• Gustav. Please please please let this storm abate before doing any damage. Not because New Orleans is one of my favorite American cities... but because I just can't take asshole frauds like Pat Robertson once again saying that God hates New Orleans and is punishing the city for its sins. If God were petty enough to be dishing out punishment this way, there's no doubt in my mind that a hurricane would descend on Virginia Beach and wipe nut-job Robertson and his "church of hate" 700 Club off the face of the earth forever. As it looks now, Gustav is due to hit at 7:00 Monday night...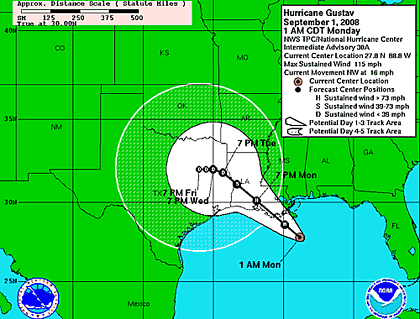 • Biorhythmic. I'm not much of a believer in biorhythms, horoscopes, numerology, and other such stuff. It just doesn't make sense to me, and has rarely proven accurate in any way. And yet, despite being a pseudoscience with absolutely no hard evidence to back it up, biorhythms is a passion for a friend of mine who convinced me to get a "Dashboard Widget" to chart myself and see what I make of it. So far (when I remember to even look at it) the results have been unremarkable. But I did note this morning that my upcoming vacation occurs during the exact period that my cerebral functions are at their highest and my physical functions are lowest. Pretty much exactly what you'd want for a relaxing vacation, I guess...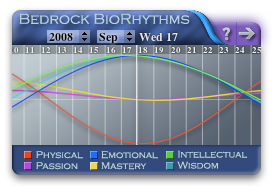 • Allergen. I had long since ruled out peanuts as a possibility for the source of my recent food allergy problems. It wouldn't make any sense, because I eat peanut butter constantly (practically daily) and would have reactions far more often than I do now. Except... now that I'm on a restrictive diet to help figure out a medicine interaction problem, I'm keeping closer track of what I eat. And it would appear that peanuts do seem to be a factor. On days I experience swelling (like today!), peanut butter was consumed in higher quantities than usual. This is kind of a bummer... if it ends up being true... (love me the peanut butter), but at least a mystery would be solved.
• Deathrace. WARNING! THIS REVIEW FEATURES AN ABUNDANCE OF CURSE-WORDS! Tonight I made time to see the remake of cult-classic Death Race 2000, simply titled "Death Race." Not because I had any confidence in crap-for-hire "director" Paul W.S. Anderson (who managed to fuck up a practically un-fuckupable film property: Alien vs. Predator), but because it starred kick-ass Jason Statham. I enjoy Statham's ability to transcend cheese in cheesy movies, and was hoping the same would apply here.
Not by a long shot. Nobody, including Statham, could transcend this pile of shit...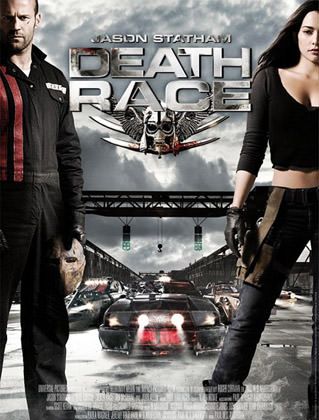 This movie is so incredibly bad, I don't even know where to start. I think I can sum it up by saying the most exciting part of the film was when actress Joan Allen has to deliver the line "okay, cocksucker... fuck with me and we'll see who shits on the sidewalk!" And this is from a film which features cars with machine guns blowing shit up! How do you fuck up a film which features cars with machine guns blowing shit up?!? Big surprise, hack "writer-director" Paul W.S. Anderson managed to not only fuck it up... but actually make it boring!
Gone is the shocking, dark humor from the original Death Race. Gone also is the socio-political commentary that mad the first film so fascinating. Gone too is any sense of excitement, suspense, or logic. This is a by-the-numbers exercise in predictability that has no guts... and certainly no glory. As I sat in the theater thinking of what a missed opportunity this was, I was positively furious. Shame on Paul W.S. Anderson for delivering shit... AGAIN. Shame on Jason Statham and Joan Allen for signing on to such a mindlessly boring script. Shaome on Roger Corman for betraying his original film and producing this crapfest. Shame on anybody who had a hand in destroying a killer concept and tarnishing a classic film by daring to use the same name. If you're looking for a watered-down version of Death Race 2000, go rent Arnold Schwarzenegger's The Running Man, which was a far, far better film in this genre.
And on that note of profound disappointment, I'm calling it a night!