I will be the first to admit that this blog is mostly frivolous crap.
But every once in a while I surprise myself by writing something worthwhile. Every once in a while I manage to actually say something.
Like this bit from last year called "Flexible for Money"...
"When you were a kid, do you remember when you dropped a coin that rolled under the table how you didn't even think about what to do... you simply threw yourself to the ground and went crawling after your money? It didn't matter if it was just a nickel or even a penny, you chased after that shit.

And now, as you grow older, do you notice how the value of the dropped coin you're willing to chase after keeps getting bigger and bigger? At one point you stopped crawling after pennies because, after all, it was just a penny. Soon after, nickels weren't worth bending over for. In no time at all, dimes are more trouble than they're worth. With age comes the realization that the time, effort, and energy required to retrieve dropped money requires careful calculation. Is the quarter that just fell out of your pocket worth the risk of straining your back while bending over to pick it up? What can you get with a quarter now-a-days anyway?

Today I dropped a dollar bill while pulling my iPod out of my pocket. As I stood there watching my money gently tumbling down the sidewalk in the breeze, it then occurred to me that I must be an old man now because I had no desire to go after it. Then suddenly, in a desperate bid to reclaim my childhood, I went chasing after my dollar. Just as I bent over to pick it up, my $180 Oakley sunglasses (one of those ridiculously expensive purchases you try not to regret) fell out of my jacket pocket and got a nice scratch on the lens. Standing there with a dollar in one hand and my ruined sunglasses in the other, I threw the dollar bill into the air and walked away having learned a valuable lesson.

Sometimes you've just got to tell your inner-child to go fuck themselves."
Now that's pretty smart stuff.
But did I learn anything from it?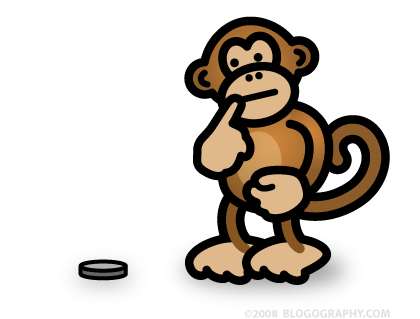 No.
No I did not.
Because last night as I was unloading my suitcase from the trunk of my car, I dropped a couple coins on the pavement. A quarter and a nickel I think. It doesn't really matter what they were. The point is that I bent over to pick up the coins with my free hand while I was holding onto my suitcase full of heavy signed books from Comic-Con in the other.
And proceeded to throw my back out pretty bad.
So bad that I had to drug up to go to sleep... then drug up again this morning to get through my work day.
And now I lay here in agony, waiting for my pills to kick in so (hopefully) I can get some sleep.
And I never did actually pick up my dropped coins. When I left for work this morning they were still there. But when I came back tonight, they were gone.
Apparently somebody younger and more flexible thought they were worth the risk.
Getting old kind of sucks.