Today was a very bad day.
I'd go into detail, but reliving it all for the sake of this blog would probably have me sticking my head in a microwave and pressing "defrost." Suffice to say that I had entirely too much to do, and most all of it went wrong at some point or another. I am not a very emotional person, but I was so overrun with despair that the idea of breaking down and crying seemed like one of the best options available to me. I dunno. Maybe it's because I'm suffering from exhaustion or something.
In an effort to salvage what's left of the day, I've decided to make a list of all the good things that happened.
My Spaced DVD set arrived. A truly great British television series that I've been waiting forever to come out on DVD here in the US. I (heart) Simon Pegg!
I got an email from Jenny which had the best possible news in it.
The Blogography Playing Cards arrived. They are not everything I was hoping for (the printing could be better and they were cut a little off-center on the face-side) but they're still pretty cool, and have a nice finish that will make them fun to play with. I can finally ship all the remaining Artificial Duck orders when I get back next week!
I didn't explode.
I'm on my way to San Diego.
I guess another piece of good news is that I finally know what 1000 decks of cards in one place look like. I've got cases and cases and cases stacked in every corner of my home...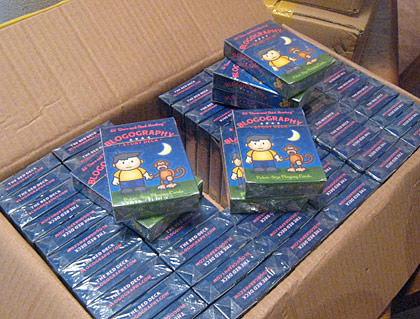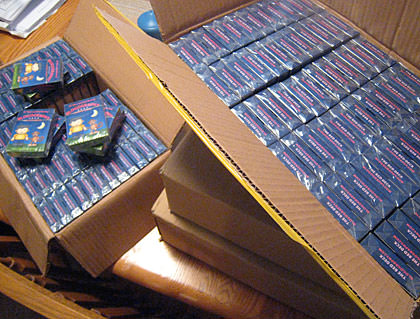 Time to pack...